Media Kit for Tricia's-List Inquiries. Web page stats updated as of January 25,2021 .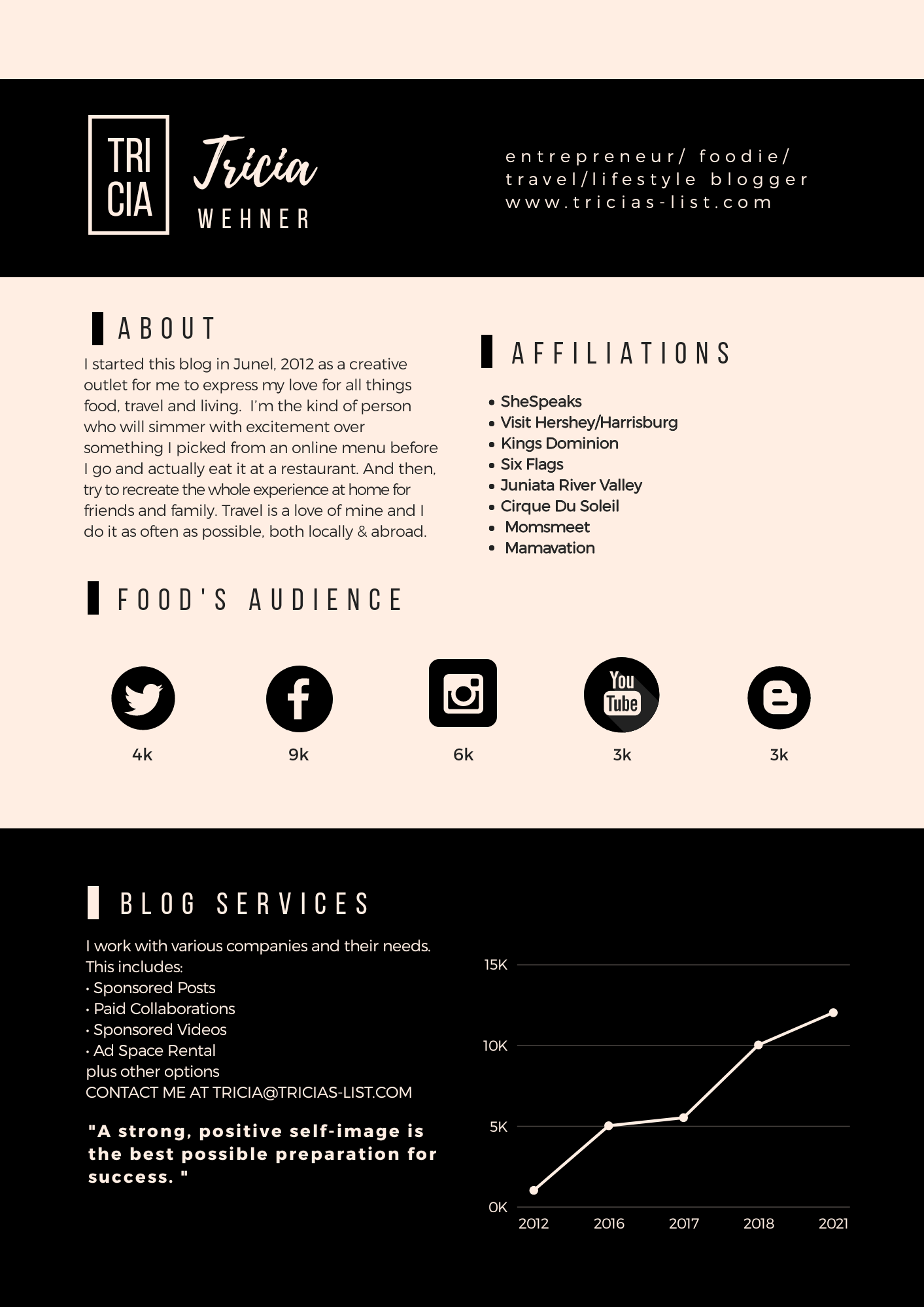 Tricias-List is a Lifestyle & Travel Blog created by its owner, Tricia Wehner. Please take a look at what's included in our Media Kit for information.
For the past 12 years (yes, we will be TWELVE this year!), I have worked hard and watched a Blogspot site bloom into a successful and active website. I have written product reviews for a variety of well-known companies (Build A Bear Workshop ,Soft Scrub, and Soda Stream). We have written articles for companies such as  SheSpeaks, Social Moms, Visit Virgina Beach, and Applegate Farms. I have also done a commercial for Bayer Advanced Aspirin based off of my experience/review with their aspirin product (my way to becoming a member of SAG-AFTRA)!
RANKING. Tricias-list.com rank has increased 93% over the last 3 months. Tricias-list.com the website was launched at July 1, 2012 and is 10 years old. It reaches roughly 103,380 users and delivers about 227,490 pageviews each month.

 Work With Tricias-List !
I love working with companies! I'm a credentialed member of the US Press Association and an occasional content contributor to the site. If you're looking to collaborate with me or want more information on my services, feel free to contact me at [email protected].
2016 YouTube Social Media Manager for IBA (also on the Senior Board for same association)
I do YouTube Video Reviews !!! This particular video below is a very popular one . As of January 25,2021 it has over 79,000 views!
Review and Article Links (Check them out…you'll love them) !
My SHESPEAKS Published Articles:
Below The Line (April/2012)     Aerie #GetsReal (Jan 2014)
Easter Bunny Cake Recipe       CVS Cracks Down On Smoking (2014)
FaceBook Changes (Feb 2012)  Joining Product Panels (Feb 2012)
Compliment Day (Jan 2012)
Download Crack Softwares Crack Softwares download Download Softwares Crack Crack Softwares download