The CBD Discussion
CBD oil. There is an ongoing discussion about the use of these oils. Some say that the oils are good… others say they are not so good for you. So, I decided to post about both sides of the CBD argument. You know… to be fair and tell people all points of this; Not just the popular good points.
So, today, I'm going to share an article that will be covering some of the "benefits" of CBD. Before I share this guest post, I want to take a second to explain what CBD is. CBD is short for cannabidiol, and it's one chemical compound — aka cannabinoid — in marijuana that's been getting major attention lately.
5 health benefits of CBD oils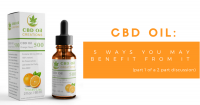 Cannabidiol oil, also known as CBD oil is a product drawn from cannabis and is a variety of cannabinoid a naturally occurring chemical in marijuana plants. Despite being derived from the marijuana plant, CBD neither causes a "high" effect nor any intoxication produced by THC; a variety of cannabinoid.
In recent times the legalization and consumption of cannabis products such as CBD oil has spurred some controversy due to the use of recreational marijuana. For this reason, we decided to raise awareness about the health benefits of consuming CBD oil.
Below are the five health benefits of CBD oils:
1. Relieves You Of Anxiety
CBD helps in managing anxiety. Researchers believe CBD alters the way the brain receptors respond to respond to serotonin; the chemical associated with mental health. Receptors comprised of small membrane protein connected to the cells that pick up chemical messages and aid your cells respond to various stimuli.
A study revealed that a 600mg dosage of CBD oils enabled persons suffering from social anxiety deliver a speech. Early studies carried out with animals divulged that CBD relives anxiety by:
        

Inducing sleep; thus countering insomnia

        

Alleviating manifestations of post-traumatic stress disorder

        

Reducing stress

        

Cutting down the physiological impact of anxiety; like an elevated heart rate
2. Cancer treatment
Some studies suggest CBD curbs the growth of cancerous cells, even though the research is still ongoing and in its formative phases. The National Cancer Institute claims that CBD oil helps ease cancer symptoms the side effects of cancer treatment. The CBD's role that promises a breakthrough for cancer treatment, such as its ability alter how cells spawn and lessen swellings.
3. Anti-acne
CBD's effect on receptors within the immune system helps decrease overall swellings in the body, thus making them an acne management option. One study issued in the Journal of Clinical Investigation unearthed that the oil thwarted activity inside the sebaceous glands; mandated to produce sebum a naturally occurring oily substance that moistens the skin. Interestingly, too much sebum leads to acne.
Note: Consult your dermatologist before buying CBD oil to tackle your acne problem. More studies are needed to assess the hidden benefits rewards of CBD oil for acne treatment.
4. Seizure treatment
CBD has previously been quoted in the news as a possible remedy for epilepsy; however, research is still underway. Researchers are examining the extent to which CBD reduces seizures in humans, and its suitability and safety. The American Epilepsy Society asserts that the research on cannabidiol offers some hope for seizure patients and that the ongoing study aims to understand safe use.
5. Pain reliever
The impact CBD oil on brain receptors helps in pain management. Studies have revealed that cannabis offers awesome benefits when ingested after chemotherapy treatments. Further pre-clinical studies backed by the National Institutes of Health (NIH) are keen on investigating the function of cannabis in alleviating symptoms triggered by:
        Muscle pain

        Arthritis

        MS pain

        Chronic pain

        Spinal cord injuries
For more on CBD oils including CBD payments visit our website via https://thesoutherninstitute.com/cbd-payment-gateway/
Please follow and like us: