Me, Cold Gin,And Bosox Hat- A BeStory #CentsOfStyle #BeSeries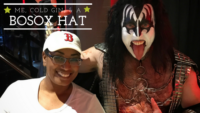 Have you ever had a chance to go to a tribute band concert? Last night I did. I went to go see Cold Gin, a KISS Tribute Band. They were performing at Live Casino in Hanover,MD. Of course, I had to figure out what to wear. I swear that if weren't subscription boxes, I wouldn't be able to dress myself (I'm KIDDING)! Of course I knoew what I was going to wear. Something simple and comfortable. I chose a pair of black shorts and my "Be Uncommon" tee from Cents Of Style.
Be Uncommon
I chose my new Be Uncommon tee to wear because it truly defines what I strive to be… Uncommon. I've never been the one to be like everyone else. When I was a kid, I was more of a nerd than anything else. As I entered my 20's, I still stood out, but was a wallflower. In my 30's, I discovered "Me" and learned that people could and would like me and all of my quirkiness. Now, in my 40's, being the girl who matches to her beat is why I'm known. I do what I want, when I want, and to hell with what others think. My motto is "Be true to yourself and do you… as long as you're not out there trying to hurt people or break laws". I love my new tee; It fits well, feels super soft, and is my new statement shirt. The shirt is part of the "Be Series" which features an array of graphic tees to describe YOU. They're on sale for $15.95 here with FREE SHIPPING (with code BESTORY). So… Who Do You Want To Be?
About That Tribute Show
Oh yeah… the show. It was a great night, and the band rocked out for a 3 hours! I loved hearing all of the songs that made KISS the mega band that they are still today. Cold Gin was lively and "Gene Simmons" was an amazing performer; this guy was really into the role… PROPS to him. Actually props to the entire band… I thoroughly enjoyed them. Also, it was much appreciated by me that they liked my Bosox hat. In case you didn't know, Hanover is very close to Baltimore which is home to the Baltimore Orioles, a MLB team. And Charm City is crazy about their "O's",lol. Below are photos and a couple of videos that you can see/watch. And if you're ever in the MD area, try to check the band out. They are pretty awesome guys and they don't mind doing photo ops with you!!
And here's the video… it's 21 minutes long,lol!!

Please follow and like us: