FOODIE : Easy DIY Holiday Cosmic Brownies !
THIS IS AN UPDATED VERSION OF MY NORMAL COSMIC BROWNIES. TO GET THE HOLIDAY VERSION/LOOK, SIMPLY REPLACE REGULAR COLORED MINIS WITH HOLIDAY COLORED MINIS.
Yup… I'm a Foodie. I love eating food. Absolutely and totally enjoy cooking it. A swell of happiness engulfs me watching other people eat what I cook. I especially love it when my kids eat the dishes that I create. There are many reasons behind that,too. For one, I am saving money most of the time when I cook or bake at home. Secondly… I can cook a bit healthier for the kids and myself when I am at home… either from scratch or semi-homemade.
What's Cooking Today?
Today, what I am making is a baked good. More of an after school treat that I am sure you have heard your kiddoes ask for. Today, I am making cosmic brownies. They are, in my opinion, a lot better than the store-bought ones, and they're fun to make. You can make them during the day when the kids are out or in school, or you can make them together as a family to create some quality life memories. In any case, here is the recipe and how I make them … which is pretty simple. Enjoy and please let me know if you make them and how like them!!
Ingredients
    Brownie Mix (any will do, but I prefer to use the Cup4Cup or Immaculate Baking brands) 
Eggs (amount will vary according to your mix choice )
Water (varies according to mix choice)
Multi- colored Chocolate Minis (I used Mini M&M's)
Chocolate or Fudge Frosting
You will need to pre-heat the oven to 350 degrees. While the oven is preheating, lightly oil, butter, or grease a glass or metal baking pan. I like to my rectangular Pyrex glass baking pan… it allows me to make more brownies at one time. Once you have the pan oiled, make up your brownie mixture. Make sure that the batter is completely mixed, and pour into your baking pan. Place the pan into the preheated oven and bake your brownies for the allotted time, which is usually between 20-30 minutes. We like our brownies chewy and fudgey, so add a little extra chocolate chips into the mix and I take the brownies out of the oven maybe 2-3 before the real baking time says. Just make sure that the brownies are thoroughly cooked through, lol!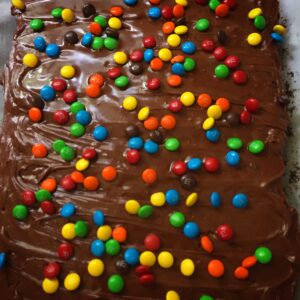 Once the brownies are done baking, set them aside to let them rest. They need to cool off for 10 minutes. Now here comes the fun part. Grab your chocolate or fudge frosting and ice those beautiful brownies of yours. Once you've done that, take a tube of the chocolate minis and pour some into your hand. Then , use your fingers to sprinkle the minis all over the frosted brownies. Let the brownies sit again for 5 minutes so the frosting and minis can set, then cut the brownies into squares.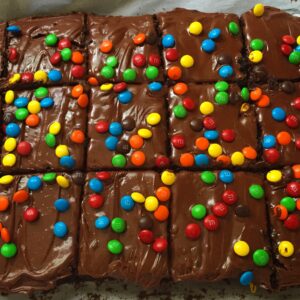 Here Comes The Goodness! 
Now you have fresh out of the oven cosmic brownies, and you just may become an extra cool mom,too (I know I get some cool points whenever I make a batch of these). Enjoy with a glass of milk or alone..either way, they are delicious!!
Please follow and like us: