Gel Peels : I Had One Done And This Is What Happened!
Have you ever been treated to a Spa Day and just had the entire royal treatment ? By royal treatment, I mean body ,hair, and skin treatments ? A couple of times in my life, I have… and I loved it. Once ,I had a facial done. Oh ,my goodness ! My face felt and looked so beautiful after that treatment ! And, the little dark patch (melasma) under my right eye was gone. I asked the lady who took care of me that day what it was she did to get it disappear ,and she said "I gave you a facial peel". Amazed is the least I can say about how I felt.
I had never had a facial peel before. Had I had known that they would help me to treat my slight hyperpigmentation problem, I would have been getting this process done way before this experience. Alas, we can't all always afford to jet to a spa. Those little pleasures can get quite expensive, ranging from $50-$500 or more depending on the spa you go to. Not a good feeling for me, especially since I do suffer from a small skin condition. This leads me to this post I'm writing , though. I have found an effective way to treat my pigmentation problem at home ..for a fraction of the cost. It's Fruit Acid Gel Peel 15% from Refresh Skin Therapy, and it works .
What Does A Gel Peel Do?
Fruit Acid Gel Peel 15% "effectively removes the outer layers of thickened or damaged skin improving texture and tone while revealing noticeably smoother, healthier skin." Here's how –
Effectively removes dead surface skin cells, Glycolic Acid Peel loosens and removes the outer layers of thickened, damaged skin.
Ideal for Age Spots, Dry Dull Skin, Freckles, Sun Spots, Increasing Skin Radiance and Luminosity, Acne Scarring, Skin Lightening, Post Inflammatory Hyperpigmentation, Melasma.
Improves skin texture and tone, shrinks pores, Improves oily and problematic skin
Enhanced with Kojic acid, a natural skin brightener with antibacterial and anti-inflammatory properties, to reduce the appearance of dark spots and inhibit melanin production
Did It Work On My Face?
So far, I have used my Fruit Acid Peel two times. The visible changes I see is  that my face is brighter and feels smoother… just the way it did when I had it done at the spa. NOTE: I don't recommend that anyone use this peel in excess. You have to keep in mind that this is a chemical peel, which means that a layer of your skin is being taken away with the treatment. Chemical peels can do the following things for you –
Reduce fine lines under the eyes and around the mouth
Treat wrinkles caused by sun damage and aging
Improve the appearance of mild scars
Treat certain types of acne
Reduce age spots, freckles, and dark patches (melasma) due to pregnancy or taking birth control pills
Improve the look and feel of skin (WebMD.com)
Side Note On Gel Peels
I do want to say one important thing about my experience with my Fruit Acid Peel – I did experience some strong tingling on my first application. According to the directions, the peel can be left on your face for 1-3 minutes, depending on the individual. I highly recommend that you only keep it on for no more than a minute if it's your first time. Other than that precaution, my experience and results were fantabulous ,and I will continue to use this peel. And for the small cost of $34.95 for a 1 oz bottle, it's steal , because that will afford you at least 10 peels, in my opinion.  I mean, one facial peel at a spa is gonna run you about $60 at least ! If you are interested in learning more about the Fruit Acid %15 Gel Peel or you want to buy the product, you can visit the Skin Therapy site and browse through it. Thank you for reading and … Be Blessed !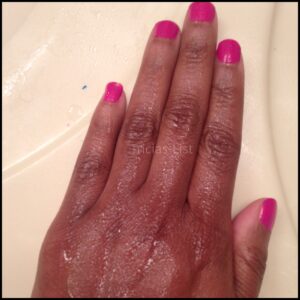 You can also do peels for your hands, just in case you were wondering !
Please follow and like us: