Home Goods Is Definitely One Of THE STORES For Me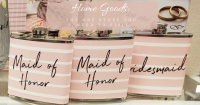 I love a good deal. Even better, I love a good deal for something that I am actually looking to use,lol. You know what I mean, right? Sometimes you go browsing in a store, and you see something that's "so cute". You don't need it, but you buy it anyway, and then it ends up sitting in a corner at your house until you give it to Goodwill or something. Well, at Home Goods, those little cute things are mostly functional and make your house beautiful.
Best of all, the items at the store are (or at least seem to be) high quality. They've got items for your bathroom, bedroom, outside/patio, your pets, your living decor. Girl, they've got ev-ry-ting .
They've Got Rae Dunn!
Oh, yes the do! I came across a whole collection of Rae Dunn stuff. I was in heaven!  And you know what? Effing CHEAP! I mean, look at the items I found at my local Home Goods store:
Oh… Did Someone Say Food?
Yes. Home Goods sells food! Not a lot of variety of food so that you can go grocery shopping, but it sells certain shelf stable items. The items are also mostly organic, GMO free, or overall healthy food choices. I get my baby girl her favorite raspberry preserves from there. Many of my high end spices, nut butters, non wheat flours, and coffee flavorings come from the same store.  And they are priced so well.
The first time I went to one, I was a little afraid to look at the prices because everything looked so fancy.  But, I was so pleasantly surprised that the prices are really suited to fit my pocketbook budgets and the products there let me live my "glam healthy life" that is expected of me in my neighborhood (yeah, I live in a surburb than can get pretty snobby at times). If you ever get a chance to visit a Home Goods store, I suggest you take it… you'll love it!
Please follow and like us: