I Test Drove The New 2017 Mitsubishi Outlander For A Week!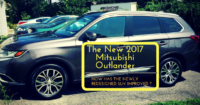 Traveling!! Who likes to travel? I know I sure do! A few of the reasons why I like to travel is:
I get to see new things
Meeting new people is always fun
I LOVE visiting new places
My most recent trip was a visit to Kings Dominion in Doswell, Virginia. It was actually a revisit because I had visited Kings Dominion before in May 2017 during Mother's Day weekend for opening week of the theme park. But this particular visit was extra special because I was able to do two things at once. One… I visited Virginia for a travel assignment I was doing and secondly, I was able to to test drive the new 2017 Mitsubishi Outlander! How exciting is that?!  I was able to actually test out a new 2017 vehicle from Mitsubishi. I had it for seven days and  it was one of my most exciting test drives and Blogger reviews ever!
I'll tell you about the Kings dominion part of the trip in a separate post, but right now I want to talk to you about my experience with the Mitsubishi Outlander.
Sponsored Post
So, before I start talking about my actual experience with the vehicle, I do want to let you know that this was a sponsored post made possible through DriveShop and Mitsubishi. It's greatly appreciated being one of the bloggers selected to be able to test out this new vehicle. I also have included videos and photos so that you can see the Mitsubishi Outlander in real time. And also be able to see how the SUV looks in photos that are not company stock photos, but from real people like myself. That way, you can see all the features that you may want to see. OK.. now let's get it on!
It's Here!!
My test driving vehicles deliver to me via drive shop. They actually had a driver come from Virginia and deliver the car to me… how awesome is that? Side note…. thank you, Summer; you were a great help! When the car was delivered,  I was really in awe because I've never seen an actual Outlander up close and in person… especially at the 2017 ones.
The 2017 Outlander is a very sleek and smooth looking vehicle. It IS an SUV. The particular Outlander that I received came fully loaded, in my opinion. It had and extra $4,000 in features in it.  Since being a car owner, I  have not been able to experience driving a fully loaded vehicle. I personally own a Jeep Patriot and a Dodge Stratus and they don't have the features that the Mitsubishi Outlander does. Here's a video of me receiving the new Mitsubishi … enjoy!!
So now that you've watched the video,  what do you think of the new Outlander so far? Pretty cool right!? Let me tell you guys something…  this SUV runs so smoothly! I was amazed at how smooth running this vehicle is. No bumps, just smooth sailing. At first, I was a little apprehensive about driving it, because (A)  it is not my vehicle … and (B) it is a test drive, and I have it for seven days.
But I was really leery about taking it out at first because I needed to get used to driving the Outlander… which categorized as a full size vehicle. Fortunately, I was able to adapt to it in no time because it's just so comfortable to drive. It has seats that are adjustable; everything is just right there at the tip of your fingers. The car is pretty amazing … I don't know how else to describe it.
Clean On The Inside
The interior of the Outlander was built with family in mind, I feel. So of course, you have your driver seat. This particular seat has various buttons on the side so you can adjust your seating. For example, if you're shorter or taller, you can lower the seat or make it higher. You can also, bring the seat forward or move it back for extra leg room. These features are automatic in the driver seat, but the adjustments in the passenger seat is manually done (free of auto side buttons). Bonus … the seats are very comfy and in this particular model, the seats are heated! So in the winter, you don't have to worry about your bum-bum being cold!
Next up is the backseat!  I believe the backseats accommodates three to four people (3 comfortably), and there's a third row that you can use if you want/need it. The third row does take away some of your trunk space, but it comes in handy when you need that extra people space! Oh, did I mention that your trunk door can be opened via your car FOB? Yup…it certainly can!
Speaking Of FOB
Since I mentioned it, do you guys know what a FOB is? No, because I super failed to tell you (in writing) that the Outlander is a push to start vehicle. A FOB is "a small security hardware device with built-in authentication used to control and secure access to network services  and data" ( webopedia.com). The FOB basically communicates with your car and tells it that it's okay to start without a key. Man, when I say this car is loaded… it totally is! You no longer have to worry about putting your key into the ignition anymore. Just keep your FOB on your person you're good to go.
 So Much Awesomeness!
I could go on and on for days about the Mitsubishi Outlander, but then I would be oversaturating you info, and I really don;t want to do that,lol, So, I'm gonna share some photos I took of the car and also a video. The video will show super awesome features of the car, including hands-free and phone connection capabilities. Take a look at the
In Closing
I'm going to close this post by saying that I truly enjoyed having the Outlander to drive and experience for the 7 days I had it. I am ThisClose to wanting to buy one for myself, especially for the price point, but I have to stay focused right now,lol. The SUV is roomy, comfortable, almost the perfect car for traveling on road trips. I say "almost perfect" because, really, I haven't tried every other vehicle out there, so I don't like making the statement would be true to form. But , I will say that for my tall family (I'm the shortest at 5'8″), it's very accommodating and we like the extra space and the upgrades. I especially love the hands free, phone connect features. Man, I really do love the car. But hey, don't take my word for it… go visit your local dealership and test drive one. See for yourself what the New 2017 Mitsubishi Outlander has to offer you!