" Paint Night For Foodies" – A Lesson In Making Edible Art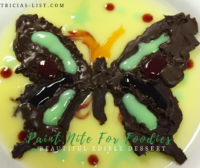 Did you know cooking and plating food is an art? It's true. When you go to a swanky restaurant and pay $50 and up for a plate with swirly stuff, two scallion, and one scallop on it, it's not actually the food you are paying for. NOPE. It's artistic presentation that matters. The chef you created your plate made food art to feed your eyes as well as your stomach. This art technique is what similar to what you can learn when you attend a Paint Night For Foodies at Turning Leaf Wellness in Severna Park,MD. This fun filled 2 hour event not only brings friends together for a little fun, it offers you a glimpse of what it takes to make that intricate gourmet dessert you sometimes treat yourself to.
Come On In & Take A Seat
What a great time I had last night! I attended a #PaintNiteForFoodies event in Severna Park,MD and it was super fun! When we entered the venue, we found a table to sit at while we waited for the rest of the guests to arrive. The tables were set with brochures and info about the Wellness center and it services, which included Paint Nite and other cooking events. While we waited, the chef's assistant Megan, offered us a glass of wine of our choice; I chose a Cabernet.
Once all of the guests arrived, we all went into the kitchen where there were cooking stations awaiting us. The stations are arranged for 2 people to partner up with. Chef Dave greeted the class and informed us on what we would be creating during the event. He explained what all of the ingredients that were available to us and then he let us do our thing and be our creative little selves! My friend and I made a couple of peanut butter cups and some other candy with cashew and peanuts in them. We also had enough tempered chocolate left over to make chocolate dipped strawberries… YUM!
On To The Next Steps!
The main attraction of the night was not the candy,though. Nope, not at all. What the group was in attendance for was about to happen… edible stencil art. I had noticed earlier that there were stencils of butterflies and birds and was wondering what part in the event they played. Now I knew. The stencils would be serving as a template for us to make intricate chocolate decorations. The decor were fairly easy to make with the stencils, it was just a matter of ensuring you had the chocolate layer thick enough. The layer needed to be thick so that when it hardened, it would keep its form and not break when removing the stencil. Unfortunately, my butterfly broke in my first attempt, so I had to add more chocolate. It turned out okay in the end,though, and I was very proud of my creation.
I truly enjoyed myself during the Paint Night For Foodies event, and I intend on attending others in the near future. If you are in the Severna Park,MD area and are looking for a new fun way to get out and learn something new, I highly suggest adding Turning Leaf Wellness to list. You can find their website here, or you can call them at 410.360.4242 for more info!
Paint Night Package includes:
Gourmet appetizer & gourmet dessert.
Create appetizers and desserts.
Learn plate presentation and plate painting.
Glass of champagne.
Special plate presentation and plate painting skills with executive chef.
If you're in the Annapolis/Severna Park,MD area, consider checking this amazing clean eating event  for yourself! Also, if you want a current deal that is happening from Turning Leaf, they have these April 2017 groupon specials for Paint Nite and  their Interactive Cooking Classes!
Please follow and like us: