Stevita Stevia – Sugar Free LifeStyle!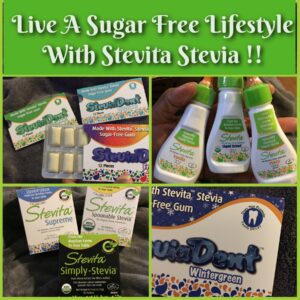 Hey, my healthy lifestyle livers! I wanted to hop into this post and let you know about a new company out there called Stevita Stevia that has a great line of Stevia products. For those of you who don't know what Stevia is by now, here's a great definition for you.
I first heard about Stevia from Stevia Steve (aka Dan Quinn) . I admit,too, that when I saw this guy on YouTube YEARS AGO, I thought he all full of craziness. Who would have thought that this guy was truly a pioneer in this?!? I just want to say, Stevia dude… you totally have my humblest apologies for not taking you seriously and getting onto Stevia sooner.
Now that that's over… onto the subject at hand. Stevia is a plant that many of us in the natural and organic world have been using in the past 3-5 years.This plant can be used as a sweetener in replacement of refined white sugar as well as other sugars. I personally just started using Stevia a year and a half ago, and I've really learned to love it. Yes, I still use regular time to time (certain recipes passed down don't taste the same without it), but my cubbard is stocked with Stevia, Agave, and other things.
Who/What Is Stevita Stevia?
The Stevita Stevia company (website here), which is in Arlington Texas (my home state … YEAH!), was kind enough to send me a wonderful variety of their Stevia line, and can I say … WOW!
THE STEVITA® STORY
Stevita is dedicated to offering you the highest quality and best tasting stevia, supported by a long tradition in the stevia business;
• Farmers in Maringa, Brazil in the early 80's formed a cooperative to harvest stevia leaves. Maringa is in Southwestern Brazil, the native habitat of the stevia   plant;
• In the mid 80's, they turned it into a company to farm the plants and extract the sweet crystals from the stevia leaves;
• In 1987 the extraction factory was completed;
• In 1988 the Stevita® brand, the first stevia table top sweetener in the world, was introduced in the local market.
They sent me the following items:
Supreme Sweetner
Simply Stevia Sweetener
Steviadent Chewing Gum
Simply Stevia Sweet Clear Drops
Stevia Sweet Flavor Drops
The only items I was not able to try were the Stevia Sweet Candies and the Stevia Sweet Ground Cocoa Powder. Who knows… Maybe after this article, they'll send me those two products (GUYS…fingers crossed)?!
What Do I Think Of Stevita Stevia Products?
So, I've been using the Stevita products for over one week now. Now I know some people are saying, "Oh a whole 7 days, huh Tricia?". And to that I say, YES! Over 7 days of replacing my coffee creamer, flavored water, and teas. That's a LOT when you think about it. And you know what? I don't miss the other sugar and creamer. Instead of using my normal Italian Cream coffee creamer, I had black coffee with a few drops of regular and vanilla Stevita Sweet Drops and it tastes GREAT! Instead of using my Soda Stream syrups and enhancers to flavor my water, I used the Peach Stevia Flavor Drops and it's awesome! I keep the packets of Stevita in my clutch so when I go out, I can that to sweeten my drinks instead of using the pink it yellow stuff. And the gum? YES, HONEY YES!! My favorite flavor is the wintergreen followed by cinnamon, and then fruit (the peppermint and spearmint are good but a little overpowering for my tastebuds).
I absolutely love the entire Stevita Stevia line and I believe that my cupboard will definitely be stocked with this product.
Enter To Win Your Own GUM!!
Please follow and like us: