5 Reasons To Visit San Antonio – Travel Blog Series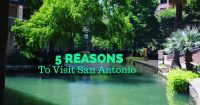 It's 2018!! Do you know what that means? It's time to start planning and saving up for vacations! Why do I say this? Well, it's because tax season is is coming soon and that mostly allows for many of us to splurge a little on things we may want. I have made it a goal of mine to travel more with my savings instead of just buying "stuff". I want to… what's the saying… "Make Memories"! And what better way to make memories than to travel to a new city or country?! Today, I'm going to share with some reasons why you should consider visiting San Antonio, Texas.
Bienvenidos A San Antonio!!
I chose San Antonio as a travel destination because I love the city. I'm actually from San Antonio (born and raised), but being in the military life, I kind of strayed form my hometown in lieu of discovering more of the U.S. and other countries. But, a few months ago, my Mommy got her wish and had her baby girl (but still firstborn) home for visit. To be honest, a lot about the city of San Antonio changed… all for the better.
I'm pretty sure that during my visit, I qualified as una turista . As a matter of fact, I know I did. Because one of the sales associates at Shops At Rivercenter aka "Rivercenter Mall" (from back in the day) told me that because I had been away so long, I was about to be re-introduced to the city. And she gave me a 25% Tourist Discount… YAASSSSS!! Okay, I was going tangent girl on you… sorry. Now, where were we? Ah, yes. Reasons why you will love visiting San Antonio. Here we go!
1.The Alamo: Filled With History
Texas as a state is brimming over with history. There are numerous cities and towns. like Austin and Houston, that tell some fabulous and heartbreaking tales. San Antonio is also one of those cities that is rich with history. Many people come to visit the city just to see the Alamo standing in all its glory. Can you believe that this amazing piece of history was built 300 years ago as a Chapel? It's true… visit the website to learn more about the Alamo. When I was growing up, I really took for granted what the Alamo meant and still means. But as an adult, revisiting it gave me a new appreciation for its symbolism and story. The amount of sacrifice that men and women from all over, the lives that were dimmed and blood that was shed… all of that helped shape the city that is San Antonio. And you can see it in person every day when you visit. Take a look at the photos below to see a little piece of the Alamo.

 2. The RiverWalk
The Riverwalk in San Antonio is a huge attraction for tourists. It is also a way to travel through the downtown area without being on the street level. Although the Riverwalk is a full 15 miles long, only 5 miles of it runs through the downtown area. It's chockfull of attractions,too. There's amazing restaurants ranging from Authentic Mexican (of course)  to German and Irish restaurants. Yes, I did say German food is in San Antonio. In case you didn't know, there are quite a few German and Irish towns across the grand state of Texas!
If you ever get a chance to visit San Antonio, I highly suggest you schedule an hour or two (or three!) to walk the Riverwalk and see all it has to offer. And if you don't want to "Walk The Riverwalk", you can always opt to take the Riverboat. But for now, here are a few of my personal photos I took on my last visit home. They're photos of me and my Mommy… I loverzzzz her!
3. Shopping!
What do tourists like to do when they are visiting a new place? THEY SHOP, of course! And the Shops At Rivercenter do disappoint for that option. When I was teenager, the SAR went by another, more basic name. We called it Rivercenter Mall, but I guess that with all the revamping that has occurred over the years, a renaming of the mall was inevitable. There are 3 HUGE floors of retail stores that fill the shopping center including a Dave & Busters,and one floor specifically dedicated to dining. Being a self proclaimed Foodie, that is obviously my favorite floor to be on! But you can definitely "Shop Til You Drop" there.
And when you're done, you can go catch a movie at the IMAX Theater at the very top floor, or head right to your hotel room. That's because there are about 6 different luxury hotels only a few steps away. The Marriot Rivercenter Hotel is literally attached the center ( click here for a Marriot Promo Code to save you some coin). The Menger Hotel , which is known for it's famous room hauntings, is sure to raise your curiosity. There are just so many things to buy and shops to visit, and you won't even be leaving the downtown area! There's still North Star Mall to visit so you can get to see the Big Boots outside of the mall. Man, I get so excited talking about my home town… it's darn shame I don't go home more often (sorry, Mommy)!
4.The Food,Tho…
You know that if you're San Antonio, you're gonna definitely be able to taste some authentic Tex-Mex food. You'll get to try foods that you don't hear of in other states. For example, if you're in the Northwest, you'll know about tamales. But the tamales in San Antonio are on another level. They're not the big fat tamale that you get at Chevy's Cantina. Instead, you get a dozen perfectly sized, perfectly portioned, moist tamales with so much flavor in them you don't need any sauce to make them better. Oh, and you can get CARNE GUISADA TACOS. It's so crazy to me that these Mexican food places here up North where I live seem to know nothing about these tacos! I remember the first I asked if they had carne guisada tacos, the server tried to correct me by saying, "oh you mean carne asada". No, BIH… I know what I'm asking for… I only grew up eating them for like, 20 years!! Oh…tangent again. Sorry.
Anyhoo… the food is great. Not just the Tex-Mex food, either. Our Texas BBQ is on point, yo! It'll make you wanna slap yo mamma. Like literally, you'll slap your mamma when you taste our food and wonder why you're mom never cooked like that,lol. But if Tex-Mex and BBQ isn't your thing, don't fret… we have many more options for you. I mentioned earlier that we also have German and Irish influences in our city, so you can find a lot of different foods here in San Antonio.  A little note… Take a walk on the wild side, and get your hands on a tasty, crazy dessert by trying some nitrogen ice cream when you go visit Sub Zero ice cream shop!
5. Attractions
Even though I have spent the last 1170 words telling you about the wonders that San Antonio has to offer, I have barely scratched the surface. Namely because everything I spoken of is right in the downtown area. But, the city has so many other amazing attractions to see! There's Ripley's Believe Or Not located in the downtown area, the Hemisphere Plaza, which is about a 2 mile walk from downtown, and the Alamodome is also located very close to the downtown area. But wait… there's more! You can go to Six Flags Fiesta Texas and Sea World, which are both located off of IH-10, or you can travel the opposite direction and get wet at Splashtown USA. Again, these fun filled attractions are amazing, but really… San Antonio is such a big city that you'd have probably have a 2 week stay to really get to know the place. Or.. you could just make multiple visits to the city through the year; there's always a new event happening. In any case, I can nearly guarantee that when you come to visit San Antonio, you'll have memories to last a lifetime!