I Visited Gettysburg, PA On A Whim To See Some History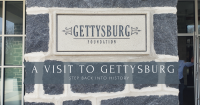 The travel bug has bitten me, guys. It seems that every other weekend, I am heading outside of the house on another travel journey. And I love it. Now, I'm not jet setting to Havana, Cuba, but I am going places here in one of my favorite states… Maryland. All of the states here in America have great and interesting history to them, but Maryland in particular has some really important places. Which is why I decided to go to Gettys burg National Park.
Okay… Gettysburg is NOT in MD; It's in Pennsylvania, lol. But it is just a 2 hour pleasant drive away.  There's little to no traffic on the route I took, and I think only one toll that you have to pay, if I remember correctly. I was especially ready to go on this Pennsylvania road trip because I had a new car to test out. I drove the new 2018 Outlander Sport by Mitsubishi. This car has a very smooth ride, and while it is the sportier version of the original Outlander, still has a roomy back seat.
 About The 2018 Mitsubishi Outlander Sport
I wasn't too thrilled about the color of the vehicle, which was white, but that's only because I think that, as a rule, the color white gets dirty way too easily for a person like me. I mean, dirt seems to gravitate to me when I wear or have anything white! Having said this though… the Outlander Sport looks pretty slick with a white paint job… I'm just saying.
The Sport a smaller version of the normal size Outlander, but I think that it is big enough for a family of four. My kids are a bit tall (the shortest one is 5'9), so leg room in the back could get a little cramped if you're over 5'9 and plan to travel. The trunk is spacious,too; let the backing down to expand the trunk space if you don't have anyone using the back seat.
On To Gettysburg!
My nice little 2 hour drive led me to Gettysburg. I had always wanted to visit the historical place, and I was super excited to be able to see it. In case you don't know, Gettysburg is the site where one of the most important battles of the Civil War occurred. It's one of the most prominent National Parks here in the United States.
The Battle of Gettysburg was a turning point in the Civil War, the Union victory that ended General Robert E. Lee's second and most ambitious invasion of the North. Often referred to as the "High Water Mark of the Rebellion", Gettysburg was the Civil War's bloodiest battle and was also the inspiration for President Abraham Lincoln's immortal "Gettysburg Address".
As you may recognize, I'm quite grateful for what happened here on the field. Had it not been for the beliefs and courage of the North, I may not have the freedom that I have now as an African American Woman.
So Much Meaning
I actually wasn't expecting to stay so long at the National Park, but I ended up staying nearly the entire day there! I didn't realize how vast the area was. Yes, I know it was battleground. But, looking at the website and/or read up on the events doesn't give you the full picture of it all. A visit to the actual setting is much needed to better appreciate the event. I spent 3 hours in the museum and 2 hours outside looking at the monuments & reading inscriptions on mentioned monuments. If you're into history or just love your country, then this truly is a "Bucket List" travel to do.
There's no bias at Gettysburg… there's simply facts. Cold, hard facts about what happened in the battle; a story that tells the amount bloodshed and lives lost in the battle. It's quite the eye opener and so far from just reading pages about it in a school history book, or watching a 3 hour movie. I don't really know how to explain it other than to highly suggest that if you get a chance to, go visit Gettysburg. Learn your country's history so that we can learn how not to repeat the wrongs that happened before.  Thanks for reading.
Please follow and like us: