Okay, let's start off by saying this … I absolutely LOVE a nice smile . There is just something about when you see someone genuinely smile. It makes you feel all warm inside. And the best thing about a smile ? It's contagious. It doesn't have to be a smile just for you, but if you see it , you feel it . 
To me , a nice smile is one that just dazzles you. A wide, real, welcoming smile. With amazingly beautiful teeth. To me, having nice ,white teeth make a good smile even better. That brings me to the subject at hand – teeth whitening. I know that teeth whitening has become a big thing out in the society right now. It started as something you could only get from your dentist ,and it costs hundreds (even thousands) of dollars. Then,it expanded to D-I-Y items at home. The strips ,the toothpastes,even rinses. All promising that highly desired red carpet "Hollywood Smile".  Well, I am writing this article to tell you about a different type of at home whitening system, and it more than rivals the results that you get from your dentist !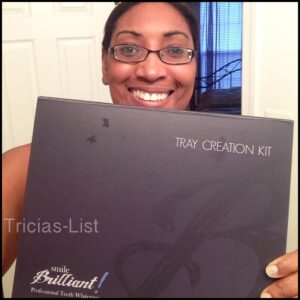 The product is called "Smile Brilliant",and I really enjoy using it ! Not only does it save me from the hassle of having to go my dentist for teeth whitening,it also saves me money from the massive amounts of products on the store shelf that I used to buy to get and keep my teeth as white as possible. The difference is … the result is so much better !!
After finishing making my mold impressions, I shipped off the set to the company so that they could make my custom teeth trays. 3 days later … my tray is here !!!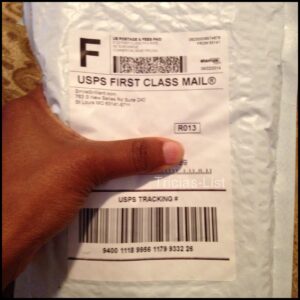 Smile Brilliant also sent me back my actual mold cast that they made. This is not a usual thing, so when you get your own Smile Brilliant kit, don't expect to get them. The company just sent me my set to show the work that they do to get your trays ready for your teeth. I think the process is pretty neat and I appreciate the professional work that the company performs.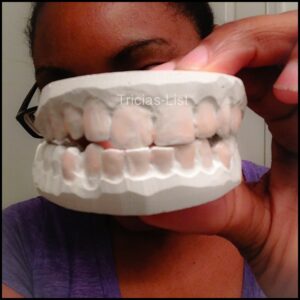 Your custom teeth trays come in a convenient carrying case that you can take anywhere with you. I like the ease and portability that comes with having a whitening kit that you can take wherever you go.
Using the whitening is super easy ! All you do is get your upper or lower tray ,whichever you choose to do first, and fill the tray with your whitening gel.  I did my upper teeth tray first ,followed by the  bottom tray. The kit says that you can keep the trays on for 3 hours ,but at least have them on for 60 minutes. I kept my trays in for an hour and a half. I did have some sensitivity for the first 10 minutes.First from the cold gel on my teeth,and then from the gel irritating my gums .  I think this is a first time experience for most people who try this,so I suggest that you get the de-sensitizing gel along with this kit. *Note* There is an optional desensitizing gel that you can add with the kit if by chance you feel like your teeth or gums will have sensitivity to the first application of the product.
For the next part of my review, I will share a video of how to apply the Smile Brilliant trays to your teeth ! please be sure to leave any comments or questions you may have about the product,and tune in later for a possible product giveaway !!!

Please follow and like us: