Bang Cookies – The Best Organic and Natural Cookies I've Tasted In A Long Time!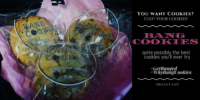 So, you guys, I think I've eaten the best organic cookies I've tried in a long time. As a matter of fact, I know I have. These cookies are called "Bang Cookies", and yeah… they're pretty friggin' delicious!
Yummy In The Tummy!
I've been working with the Bang Cookie company for about 2 weeks now, and they sent me a box of their cookies to try. Box sizes come in 6, 8, or 12 cookies of your choosing. The more you buy the more you save. There are 7 different flavors to choose from, and if you're not allergic to any of the natural and organic ingredients in them, I suggest you try all the flavors! The flavors available are:
Macadamia White Chocolate Chunk
Triple Chocolate
Walnut Chocolate
Sea Salt Chocolate
Peanut Butter Chocolate
Oatmeal Raisin
Oatmeal Chocolate Chunk
Why I Like Bang Cookies
One of my most favorite things about Bang Cookies is that one cookie will satisfy your dessert craving, AND these cookies are meant for sharing. At least, I feel that they are. Not your average sized ones, these cookies are definitely not your run of the mill conveyor belt, "make in mass quantity" cookies. When the cookies arrive to you, you get that "grandmom made these for me" vibe, and I love it! I hope that Bang Cookies makes huge waves in the food industry. We need more companies like this bring us better for you choices that include organic foods. Is the cookie low in calorie? No…I don't think so. But it's not high in calories and laden with goop that can hurt your body later on, either. So, give Bang Cookies a try; you'll be glad you did! Oh! If you use coupon code : TWCOOKIE20 it will give you 20% off your entire purchase. Valid until 5/4/2017 .
The Bang Cookiegasm Story
---
Many people have asked us, why "Bang?"  Some thought it was one of our last names.  Nope, that's not it!  Others thought it was because our cookies are Bangin,' which they are, but nope, that's not it either.  Well, the truth is, that story may not necessarily be appropriate for this page, but put #WhyBangCookies in your posts and we'll leave you hints!  The truth is, we're a little bit of naughty behind a whole lotta nice!  Which made writing this page all the harder.  Because, which positions would be more comfortable?  And what's the upside or downside to them?
Thank you for allowing us to be a part of your lives!  Now, who's ready to #getBanged? (Or, maybe we're more naughty than nice?! #naughtyornice to let us know your vote.)
Bang Cookies
Please follow and like us: