COOKING 101: EASY ORANGE CHICKEN WINGS !
I LOOOOOOVE cooking!! Even better, I love easy cooking that looks fancy. I can whip up some amazing looking (and tasting) dishes in less than 40 minutes. Today, I'm going to show you how I make crispy, tangy, delicious orange chicken wings… In minutes!! I like to use this awesome orange sauce from the San-J company.
"San-J Orange Sauce brings a delectable orange flavor to all of your favorite dishes and strikes a perfect balance with San-J Gluten Free Tamari Soy Sauce. Always a favorite at Chinese restaurants, you can now make Asian style Orange Chicken easily and at home. It's also a wonderful glaze on chicken, ribs, shrimp or tofu; is perfect as a stir-fry sauce on your favorite meats and vegetables; and perfect as a dipping sauce on spring rolls and dim sum. Certified gluten-free by the Gluten-Free Certification Organization and now verified Non-GMO by the Non-GMO Project (Look for a Non-GMO Project seal on the label)."
Here's what you need to get started cooking:
Chicken wings and/or drummettes  (I like to use organic chicken, but any type is fine)
1-2 eggs for pre dipping Flour (I use rice flour because it's gluten free)
Your choice of seasonings for the chicken  (I use fresh herbs from my garden… Soooo much better)
San J Orange Sauce (it's a glaze and/or stir fry sauce and it's gluten free)
Fresh minced green onion for garnish (this is optional, but makes the plate "pop")
Cooking Directions
Get 3 bowls…. One for the egg wash, one for the flour dipping, and one to hold the battered chicken. Take one chicken wing or drummette and dip into egg wash, immersing  completely. Then dip chicken into flour and make sure you cover completely. Place the battered chicken into holding bowl. Repeat the process until all chicken wings and drummettes are floured. Now you're ready for frying.
I fry my chicken in a deep fryer, so if you have one of those, you should have the oil heated up  already. If you're skillet cooking, now is the time you should get your oil heated as well. I suggest having a 1/2 of oil in the skillet… Just enough to ensure that the chicken will be covered and cooked once you put it in the pan. In the deep fryer, you can cook a few (up to 4) pieces of chicken at a time, and depending on the size of your frying pan, you could probably do the same on your stovetop.
Once all of the chicken is cooked, get your bottle of San J orange sauce and put it into a bowl for dipping. Take the chicken and commence to dipping into the sauce, ensuring that the entire chicken is covered with the sauce. Do this for each piece. Once you're done, add some minced green onion on top for garnish, and there you have it! A delicious m, EASY treat for snacking or football eating. And, if you add jasmine rice to it you've got a really nice meal. Try the recipe and let me know what you think of it!!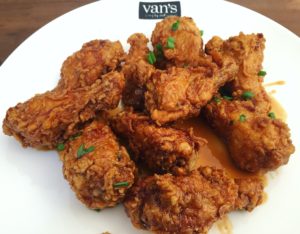 Please follow and like us: