Free Eye Glasses ? Don't Mind If I Do !!
I don't know if you guys saw my Facebook post about this super amazing deal,so I am writing up an article about. It's gonna be short and sweet ,and a HUGE money saver for people like me who are "blessed" with the gift of bad eyesight,lol. I have been wearing glasses for almost all my life and I have grown accustomed to wearing them. Personally, I like to play with different styles and colors now. I also use contacts (colored and non) to add to my 20/20 corrections. A couple of months ago,I went to get my yearly eye exam,and I decided to get glasses while I was at the optometrists office. Man..I guess I never paid attention to how much glasses have started to cost. One pair of glasses ,and they wanted to charge me almost $400 for them…and the frames I picked were only $99 !! I asked them if they could just use the frames that already had,and they told me that they could,but the lenses would still cost me $300. I was floored..so I said "I'll come back". Then,I went online and started looking for deals. That's when I found this site, and they were giving away free eye glasses !
The site said "First Pair Free" and I thought …"there's got to be a catch". NOPE. My first pair of glasses were free! The selection did not include the whole website,but there was a good variety of glasses to choose from (over 60 choices).They even have FREE prescription sunglasses you can choose from !!! I chose a pair of Zebra glasses for myself ,and then placed them in my cart. Once it came time for me to enter in my eye prescription,I also chose to pay extra to get Transitions lenses added. Those are the lenses that darken and basically turn into sunglasses when you are outside.And, because my eyesight is so bad,I also opted for "high index"…which means that I could get my lenses thinned so I didn't have that "coke bottle lens" look. Total for the customized glasses ? Only $37 !!! I couldn't believe it. I was about to pay less than $50 for a complete set of glasses with the bells and whistles !! I quickly completed my purchase, and then started the wait for the glasses to be delivered to my door. It took 8 days for me to get my glasses. They send you an email with a tracking number when your order has been shipped. Then ,the day came …. my free eye glasses were here . And you know what ? I LOVE THEM ! Check me out —-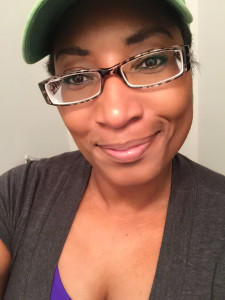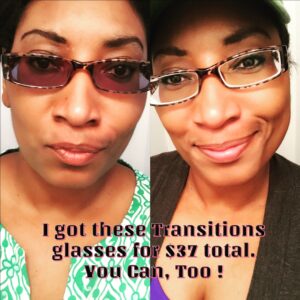 For these to be glasses that I chose online and didn't get to see in "real life",they look amazing on me! And … only $37 ($42 when you add shipping fees). You can't beat that price anywhere for a nice pair of glasses,and you can bet that when I need another pair,I am coming right here to this site to buy them. Glasses start at $12.99 !!! Interested in getting your first pair of eye glasses FREE from here ?  Click the "FirstPairFree" tab to get the deal, & then enter code FIRSTFREE at checkout.
 LIMITED TIME SO GET YOURS SOON! Happy Shopping !!
UPDATE— There is also a BOGO (Buy 1 pair, get 1 pair FREE) deal going on right now april 2016… just use code SPRING in the checkout. I just bought my son 2 pair of glasses for under $30… $27.85 to be exact. Don't miss out on this deal. Don't spend tons of cash on eyeglasses when you can take care of your eyes without hurting your wallet by using this site!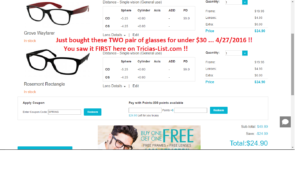 ANOTHER UPDATE (September 18,2016)!
I love this site so much!! My family is getting quality eyeglasses that they need, and it's not breaking the bank or draining my pocket at all. PLUS… The site just gave me an opportunity to get a new pair for myself. I LOVE THEM!
My new frames are rimless and they have ultra thin, hydrophobic , scratch resistant lenses… And GlassesShop.com gave them to me for free in exchange for reviewing them in this blog.
But really, guys… If you or a family member or friend need a pair of glasses, try this site. YOU DO NEED YOUR UPDATED PRESCRIPTION, but that's a given, and you may have to pay a small shipping fee, but your first pair of glasses are FREE (minus extras you might choose).
Please follow and like us: