,
Bella & Bear MakeUp Brushes Kitten Kit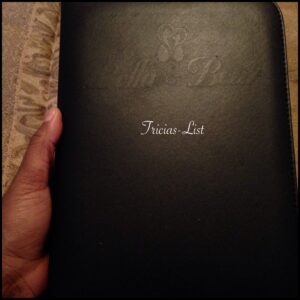 WOW ! 2015 is here with a BANG !!! I hope you had a great time ringing in the New Year . I had a pretty nice NYE myself. Got all dolled up, and with the help of my new make up Bella & Bear "Kitten" make up brushes ,I was able to get my "pretty girl" face on. And I think I rocked my New Year's look !
Doll Yourself Up!
Looking for way to flawlessly apply your makeup and get that hyper celebrity look? The first step is having a great set of makeup brushes.   I was recently selected to receive a  Bella & Bear makeup brush kit. I thought "How awesome , now I can totally start working on my new look" ! And that's what I did . One reason I was so (and still am!) so excited about this set is because I was in the market for a new set of brushes.
I made a decision to up my makeup game and learn how to apply the art of contouring to my face. Face Contouring defines your features, creating the appearance of higher cheekbones and a slimmer nose and chin. It's a technique popularized by celebrity makeup artists. The art boosted in the past years for its use by numerous celebrities, including the infamous Kim Kardashian. Contouring is a well known "secret of the stars",  but with the right products and equipment it's easy to do on your own.  That is where Bella & Bear comes into play .
I Think I Like It
When I got my Bella & Bear Kitten kit , I was really impressed ! I've never owned such a high quality set of make up brushes. The little brush set(s) that I had gotten from local stores was good enough (so I thought). Look at the packaging of the kit (above) ,and tell me that it doesn't scream "Beauty Maven" to you . The Kitten Makeup Brush Set features the following :
15 Makeup Brushes made from the highest quality materials and designed to last a lifetime.
Hard storage case that makes keeping your brushes stored safely and correctly much easier.
Great for travel too.
✓ Non shedding premium quality bristles.
✓Full instructions for care and more importantly detailed explanations of each Brush and its intended use
✓ Dense soft and silky brushes for an even streak free application of your favourite makeup every time
Forget About Bella & Bear Specs!
I love my kit .My makeup has never ,and I do mean never, looked so good on me. It has a little to do with the contouring ,but "your makeup is only as good as the brushes you use to apply them with" in my humble opinion. You can quote me on that ,because it's my new saying, lol. I believe that you could have the best makeup on Mother Earth and if your brushes suck, you will lose some of its effectiveness.  A good set of brushes gives the best performance from your makeup. But, before you do, take a gander of some of the photos I took of my set and watch my video of how easily I use them to get some contouring going on . Thanks for reading and thanks for watching the video… You rock !

Please follow and like us: