Snow Day ? Nahhhh … It's Baking Day !
This weekend, we got snow. A lot of it . Being stuck in the house ,I kinda got a case of cabin fever. I needed something to do to keep me occupied . Yes, something other than blogging, lol. So ,I decided to do some baking . I love food ,and my family loves it when I cook and spend time baking goodies . Today I decided to make some delicious chocolate cookies . And, the cookies are from Ardenne Farm , a gluten free company.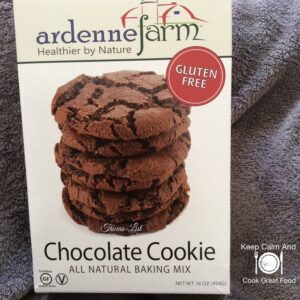 I don't usually make a point to cook or bake gluten free because no one in my family has Celiac disease or suffers from gluten intolerance. But, I decided that today would be  good day to do it. Why the heck not ?  So I fired up the oven and hopped to it (helped heat up the house,too) ! Armed with my trusty silicon baking mats (from Bake It Fun), I grabbed my mixing bowl, tossed in the 3, count em, 3 ingredients and let the fun begin !
Did You Know ?
Bake It Fun silicone baking mats are great to use so that you don't have to worry about foods sticking to pans. You can also use these mats for up to 2000 uses ! Plus, Bake It Fun baking mats have pre measured markings on them so you can determine the shape and size of things you're baking. I totally love my mats!
Ardenne Farms cookies are Gluten Free cookie mixes that make decadent

cookies that are chewy on the inside and delightfully crisp on the outside. 
Back to Easy Baking Goodness !
I'm still pretty amazed that this cookie mix only needs 2 ingredients ,and neither one of them includes eggs. Crazy ,huh?! Anyway, I mixed up the goodness, measured the scoops,and popped those babies in the oven. And … this is what I got –
I have to say, the cookies didn't turn out the way I was expecting. Instead of being moist and delicious, they were thin, and kinda crunchy. BUT ..I am not throwing them away. NO! They actually remind me of brownie brittle now, so I am going to use them like brownie brittle snacks ans I am also going to use this batch as a crumble for layering parfaits or as an ice cream topping ! How's that for repurposing !!
ENTER TO WIN A BOX OF COOKIE MIX FROM ARDENNE FARMS ! All steps mandatory.
Please follow and like us: