Best Choice Products: Adding Style To Your Backyard Has Never Been Easier!
Have been wanting to spruce up your backyard with a new patio or furniture set, but didn't have it in your budget to spend gobs of money? I may have found a solution for you! The company is Best Choice Products, and they have some phenomenal furniture arrangements for outside and inside your home!
I recently had a chance to check out Best Choice Products (I'll be referring to them by BCP for the remainder of this article)… they sent me a beautiful 4 Piece Outdoor Patio Wicker Set.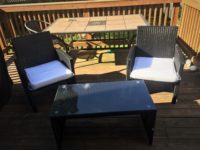 Do you see how pretty it looks? It's not even positioned in the yard, and I feel like I have added luxury in my backyard! But, I'm getting ahead of myself. I want to share with you my thoughts on what I think of the patio set and the company brand. I'll start by sharing a company description of the set I have. And then I'll finish off by giving you a live video of my review, which includes showing the patio set. Let's get to it!
Product Description
Best Choice Products presents the new Black 4-Piece Outdoor Wicker Set! Revamp your patio with a stylish and affordable wicker set. This set's sturdy steel frame and high-quality wicker that can support up to 300 pounds per seat will make it a mainstay in your backyard for years. The weather-resistant wicker, tempered glass, and padded cushions with removable covers allow for easy cleaning and maintenance. The timeless black colorway, sleek sharp edges, and inviting modern design will bring new energy to your home. Moderately sized and versatile, this double sofa, two single sofas, and table can be arranged in a variety of ways and fit any sized space. Make your backyard the place for gatherings and barbeques – with the Black 4-Piece Outdoor Wicker Set by Best Choice Products!
Wicker furniture set features 1 double sofa w/cushion, 2 single sofas w/cushions, and 1 table with tempered glass
Sturdy steel frame and high-quality wicker that can support up to 300 pounds per seat will make this set a mainstay in your patio for years
Comfortable sponge padded cushions feature removable white polyester covers that allow for easy cleaning and maintenance
Table with removable tempered glass adds a sophisticated touch and allows you to place drinks and meals at arm's reach
Double Sofa Dimensions: 43"(L) x 24"(W) x 31"(H); Single Sofa Dimensions: 23.5"(L) x 24"(W) x 31"(H)SPECIFICATIONS:
Double Sofa: 43"(L) x 24"(W) x 31"(H)
Sofa Seat: 40"(L) x 18"(W) x 13"(H)
Double Sofa Cushion: 40"(L) x 18"(W) x 2"(thickness)
Sofa: 23.5"(L) x 24"(W) x 31"(H)
Single Sofa Seat: 20"(L) x 18"(W) x 13"(H)
Single Sofa Cushion: 20"(L) x 18"(W) x 2"(thickness)
Coffee Table: 35"(L) x 18"(W) x 17.5"(H)
Glass Table Top: 34.75"(L) x 17.75"(W) x .25"(thickness)
Material: Wicker and Steel
Wicker Color: Black
Cushion Color: White
Assembly Required
Instructions and Hardware Included
Weight: 85lbs.
Single Sofa Weight Limit: 200 lbs
Double Sofa Weight Limit: 300 lbs
My Thoughts?
My thoughts on this wicker patio set? Well, I have been using it for about 1 week now (It's July 11,2017 now), and I honestly love the set. It adds more dimension to my backyard as well as gives me the feeling that I'm stepping out into a new oasis. I don't have to go outside into the yard with a blanket to sit on the ground anymore, and I'm not confined to just sitting at my deck table. Also… I feel pretty fancy being able to entertain my guests with new furniture set by Best Choice Products.
OH! Did I tell you how much this very pretty set costs? Get this… it's only $219! How amazing is that?! You get 4 beautiful pieces wicker furniture for under$250…plus BCP ships the set free of charge.
 One Thing You Need To Know
If there's one big thing you need to know about products from BCP, it's this … you have to assemble the furniture yourself.  However, there are easy to follow instructions. All of your tools come vacuum sealed together and are labeled so you know which is which. I admit that when I first saw this way of packing, I was a little weirded out. Only because I'd not seen tools and screws packed ever that way. It was actually a more efficient way to keep things in order and organized, so I appreciate it.
Also, you can assembled the set by yourself if need be. I put my set together by myself. Yeah, it took about 3 hours to do so, but I did take a couple of breaks in between. And because I put it together alone, I feel even more accomplished and rewarded,lol.
Video Now?
Now that I've shared my thoughts in writing, I can share a video of things,too. I hope you enjoy it!!

Please follow and like us: