Organizher? Organize… HER!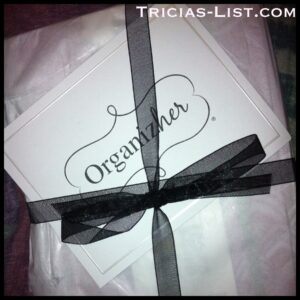 Hey, Everyone ! Have you ever had a day of shopping at the grocery store, and while at the register you have a bunch of crumbled up coupons or a sheet of paper that has your "list" on it ? Have you ever wanted to have a more organized way of couponing or keeping all of your "To Do" notes in order? I have a suggestion for you … it's the Organizher.
I was given the opportunity to work with the Organizher people and blog about one the product. They sent me the Organizher Shopping Companion and really love this little notebook ! It has been able to help me stay on track when it comes to knowing where my coupons are and it helps me stay on track with deadlines, appointments, and little memos. Here is a photo of what the Shopping Companion looks like –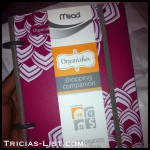 Okay… I know it's pink. Not every one loves the color pink.
My Shopping Companion
I do believe that the Shoppping Companion comes in a variety of colors,but I love the color that was sent to me(Pink is my fave color) . The Organizher Shopping Companion itself is very portable and sleek.It'snot bulky,and it can fit easily into almost anything purse that isn't super small or a clutch. It's got some awesome features that I like about it ,too (you know…besides the color/design) !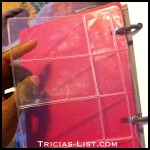 For starters, it is set up like a notebook/binder or a day planner of sorts. It also can be held closed by the elastic band in the side (see photo EX. 1). Once you open it, you see a clear plastic sleeve with mini pockets in it. The pockets for easy access is one of my favorite features of the Shopping Companion; It just allows me so much more room to put my "stuff" in it ! I used these pockets to hold a few of my reward /shopping cards. As you can see from the shared photo (Ex. 3) ,the cards fit quite well and the fit is snug so you don't have to worry about the cards falling out.
  The Mini Binder
Continuing on to through the mini binder, you'll see that there are also pockets for you to slide in what ever scraps of paper OR coupons that you might want to keep easy access to. The following feature after that is where you can start writing down your shopping list. And, if you look closely, you'll see that the pages are perforated so that you also tear out the list you wrote . Also, the Shopping Companion is REFIILLABLE, so you don't have to worry about buying another planner… you can just refill with new pages.
How cool is that ?! The best feature of the Organizeher , in my opinion, is right at the end of the binder. There you will find a plastic re-closeable pouch so that you can put more important forms (or just more stuff !) in. I like to use this pouch to carry my coupons .The fact that the pouch is clear is also a plus for me. It means that I can see all of my coupons as I need them.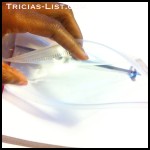 In my opinion , The OrganizHer Shopping companion is a great asset to anyone who is looking to keep better track of their daily lists and coupons ,and it's small ,compact build makes it just great portability wise. I highly recommend considering using the Shopping Companion or any of OrganizHer's products; You can't go wrong with them when it comes to keeping things in order and looking stylish while doing so !!
Enter to win your own Shopping Companion below ! The Organizher company will send the winner their prize after confirmation…GOOD LUCK !!
Disclaimer– I was given compensation in the form of free product for posting my honest opinion about OrganizHer and their product.
Please follow and like us: