One Of The Best Places For Families To Vacation! Kings Dominion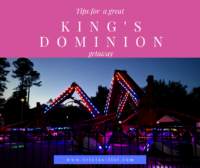 Summer time is but a short couple of weeks away. And, if you have kids, you know that they are getting antsy. I have older teenagers, and they always get the "let's go somewhere" bug.  Most of the time, a simple trip to the mall will tide them over, but now and then, we go out-of-state to get some R&R. Recently, my family and I were given a special opportunity to visit a nearby theme park. It gave me the idea to put together a Travel Series Blog to help families, large and small, decide on fun and affordable places to vacation at. The first place on my Vacation list? Kings Dominion Theme Park in Doswell. For those of you who don't know about how beautiful the state can be, take a look-see at this Virginia website. Not only is it gorgeous to see, it can be pretty darn affordable to live,too!
  And We're Off!
Since I live in Severna Park,MD, the drive to Kings Dominion wasn't that long. I would say that is took us about 2 to 2 1/2 hours to get there. Tip: if you are going on a road trip, I highly suggest that you plan your drive ahead of time. Use a good GPS system or your phone to guide you (if you trust your phones directions). Our ride there was quite pleasurable. We have a wireless hot spot in our Jeep so the kids of course connected to that and floated off into their internet world. I saw some great sites along the way, like the Washington Monument and the Pentagon.
We Are Here! Now What?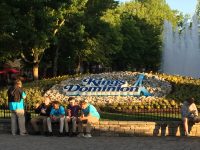 After the short time being on the road, I saw the first sign that told us we were close to Kings Dominion. Once I saw that, I began to pay close attention to actual driving destination … Camp Wilderness.  If I didn't mention it before, my family and I were planning a weekend stay to visit the theme park, so we also had lodging arranged at Camp Wilderness. The KOA Camp is not even half a mile away from the park, so you need not worry about getting lost if you venture out. We had a deluxe cabin reserved for us and I was really interested in seeing how the cabin looked. I had tried to find reviews and images online, but I just needed to see for myself. I was not disappointed.
 What The What?!
I've camped a few times before, and I was not expecting everything that this cabin had. On the outside, it looks like just a regular cabin. But inside it's so much more. There's a living area, a "master" bedroom, am upstairs loft with TWO separate sleeping areas, a kitchenette, and not one but TWO FULL BATHROOMS! Oh, every room has a television in it and there's WI-FI throughout the cabin. Me and the kids are like, " Duuuuuude… there's running water with a toilet, TV's, cable, internet, and we don't have walk up the road to share a shower? AWESOME!!" No like really… that is what we said;  We were super happy! Camp Wilderness really put the "luxe" in deluxe with their cabins, in my opinion.
You get all that room (sleeps up to TEN) and all the amenities for guess how much? $168 per night! That's not a lot when you compare what you would be paying for a hotel room with less space. Plus, when you get a cabin, you have outside personal, too. Yup. Outside of your cabin, you get your own picnic table, a grill and a fire ring for when you want to start roasting hot dogs and making s'mores over a flame.  Okay. Enough talk about the cabin… let's get to the park!!
 Why Kings Dominion?
One of the best things about visiting a theme park, for me, is variety. There are so many things you can do at a place like Kings Dominion, ranging from rollercoaster rides to watching live entertainment! Don't believe me? Check out some of the upcoming events happening this season:
May 27 – May 29 – Memorial Weekend Salute (Military Get In FREE This weekend)!
 June 10 – June 18 – KidsFest
Days June 22 – June 24 – KingsFest
June 30 – July 4 – Star Spangled Celebration
And there's a lot more to do later in the season, just visit the event page to see what's coming!
 Awesome Rides & Attractions
If you're a parent of wee little ones, then Planet Snoopy will be your best to keep them entertained. While I really didn't stay in the area long, I saw that this part of the park is definitely geared toward the younger children, and I feel that they would enjoy being able to get on kid rides that are sized perfectly for them. There are actually 19 kid sized rides available in Planet Snoopy, so be ready for lots of fun with your little thrill seeker!
My kids totally enjoyed lining up to hop onto the heart racing roller coaster rides open at the park. Given the fact that we visited during the first weeks of opening season, we had little to no wait; Later in the season when school is out and attendance picks up, the waiting lines for rides will definitely be longer. For that reason, I would suggest purchasing a Fast Lane pass. The ticket upgrade allows you to bypass the regular lines on some of your favorite attractions, including Avalanche, Delirium, Flight of Fear, Backlot Stunt Coaster and more. Ride as many times as you want all day long. My son, who is the thrill seeker in the family, went on as many rides as he could and he even waited extra time so he could be seated in the very front each ride.  Yeah… He's a little crazy, y'all!!  However, I can say this proudly: The time spent at Kings Dominion was so pleasurable, my family was even able to get ME on a ride… and I'm normally terrified of rides! I got on the "Back Lot Stunt Coaster". It was a short 2 minute ride and I had my eyes closed the whole darn time… YUP!
 Forget The Rides… Where's The Food?
Being the self-proclaimed Foodie that I am, of course I had to find out where all the delicious foodstuffs were. Luckily for me, the Taste Of Virginia was being held at the park. Oh, my YUM… did they ever have some especially delectable food there! I had Roasted Duck and a Popover, Crispy Crab Cakes, Inside Out Apple Pie, and Fried Chicken. No, not all at once! I'm not that crazy; I waited an hour or so between meals, LOL! While I'm not sure if the Taste Of Virginia is there at the park all season, I think it should be. I really enjoyed myself trying the new foods and it was a good change from burgers and digs and other normal park fair. And the adult beverages, honeeeeey, definitely on point!
If you don't get a chance to catch "Taste", then of course you can always get the always available foods from the stands and the dining restaurants in the park. There's about 33 different types of places you can stop and grab a bite to eat, and they are sure to please your tummy. If you plan on visiting the park on several occasions, you should consider getting a Season Pass and then possibly even adding a Season Dining Pass so that you can save $$ on every visit you make.
Types Of Passes
There are 3 different Season Passes to choose from and each one has its own special privileges like:
 GOLD PASS 
Get More with the Gold Pass!
Enjoy unlimited visits to the park and Soak City all season long. Best of all, your Gold Pass includes Haunt, free parking and exclusive discounts, early ride times and more! Six Easy Payments Of $19.00
 SILVER PASS
Unlimited Visits through Labor Day!
You can Visit Kings Dominion and Soak City as many times as you can until Labor Day with the Silver Season Pass. Does not include parking or admission to Haunt. Six Easy Payments Of $13.50
  PLATINUM PASS
Enjoy Access to All Cedar Fair Parks!
Enjoy all the benefits of the Gold Pass with the added benefit of enjoying all of those exclusive privileges at all Cedar Fair Parks across the country, including Carowinds, Cedar Point and more! Six Easy Payments Of $35.00
All Done!
Now that I've covered some of my favorite reasons why you should visit Kings Dominion ( I forgot to add info about Dinosaurs Alive!), maybe you should make a trip out the park this Summer and see for yourself. And take the family with you… there's something for everyone!
Thanks for reading…

Please follow and like us: