Bitsy's Brain Food – Making Healthy FUN (& Tasty)!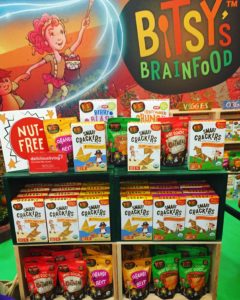 In September 2016, I attended a Natural Products show ( Expo East ). The 3 day event featured hundreds of companies showcasing their Vegan, Organic, Paleo, Gluten Free, Natural products. The products included kid friendly foods that not only were good for you, but tasted delicious. There were a handful of companies in this field that appealed to me, but one of the brands really stood out to me. They're called Bitsy's Brainfood, and they've managed to combine completely healthy and good taste together for delicious foods that your kiddoes will love to eat over & over!
I Got To Meet Alex !!!
When I attended Expo East, I had a chance to meet with Alexandra Buckley Voris, one of the two company founders of Bitsy's Brainfood. She was incredibly nice & she thoroughly informed on her company's products as well as why she and Maggie Patton decided to start the company. I also had a chance to try out some of the food line, and was very impressed. Bitsy's Brainfood has these yummy "Smart Cookies" I tried and WOW… they are so good ! Honestly, I was not expecting them to taste so good considering they are cookies made from oranges, carrots, & beets. I was also able to try the Berry Blast cereal at the expo. The cereal was very good without milk, and instantly reminded me of my kid years when I ate cereals like Kix and Alpha Bits only without the candied marshmallows. After tasting the cereal at the expo, I was anxiously awaiting a chance to try it at home and see how the texture and crunch will keep up when swimming in a bowl of milk!
Guess what? They taste great in milk,too! I wouldn't suggest leaving them in the bowl for a long time, though. Like almost all other cereals, they will get soggy if left in liquid for a period of time. Bitsy's also has a variety of yummy cookies and crackers that you and the whole family may love. I shared some of my food finds with my neighbor and her kids, and they loved all of them, with a hard lean towards the Orange Chocolate Beet cookies. I'm just tickled at the fact that there are so many choices for good, healthy food snacks out there that kids will enjoy eating. Big thanks to Bitsy's Brainfood for taking the steps to help provide great choices for our families!
About Bitsy's Brainfood
At Bitsy's, we're on a mission to make great food that starts with a simple belief – healthy bodies and healthy minds are connected, and learning to eat smart should be fun.  Every day, we work to make mega-delicious, ultra-nutritious foods for your kids and our own, to nurture their bodies, minds and imaginations and to inspire them to learn and grow.
Check out all of the Bitsy's Brainfood products where they are located near you!  Where To Find Bitsy's :
Thanks for reading!!
Please follow and like us: