Game Day Is Almost Here ! What Are you Serving ?
WOOO ! I am super excited for this Sunday . It's Football Day and you know what that means , right? Big time football fans gather together to watch the best of the best bunt heads to see who will reign as the Kings. It's also a time to pick and choose the right football food. I mean  come on, you can't just serve any kind of food during the big day ! That's why I have come up a variety of foods that may be perfect for the day. Now, don't be alarmed ,but most of these dishes are not going to necessarily healthy, but boy ,oh ,boy will they pack some flavor and taste ! Check them out a let me know if you'll be trying any of them !
Apps, Galore !
If course, most football food are apps, because no one wants to sit at the table to eat. They want football on the TV and easy to get finger foods. I recommend things like cheese balls (easy to make), dips, and simple casseroles. Below are pretty simple and quick recipes that I think will be sure to satisfy most of your football foodies . Enjoy !
Cheese Balls !
Ingredients
Makes 1 Cheese Ball
Directions
In a large bowl, mix together cream cheese, Cheddar cheese, and dressing mix. Form into one large ball or two smaller balls. Roll in chopped almonds to coat surface. Refrigerate for at least 2 hours, or overnight.
Tricia's Ultimate Cheesy Beef Dip (delicious recipes)!
Makes 1 large crock pot full
1 package of Velveeta (16 oz)

1 lb. of Ground Beef 

1 bottle of Salsa ( I serve mild so everyone can enjoy)
Directions
 First, brown the beef. Make sure it is cooked thoroughly. Drain oil off of beef. Set aside for later .
Place the Velveeta into a crock pot and start to melt the block of cheese. After the cheese melted, add the entire bottle of salsa and the cooked beef. Stir together all of the ingredients,and let the crock pot keep the wonderful mixture warm.
NOTE – if you do not have a crock pot, you can use a large microwave proof bowl to make the dip.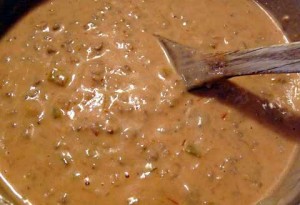 Made At Home Hot Wings
Ever since I learned recipes on how to make hot wings at home, I don't waste the money ordering them out. Here's are a few recipes you can use to make your own delicious and filling Game Changing Snacks … or just give yourself a treat . Oh, you can also switch up flavors if you want !
Ingredients
Bag of party wings (These are usually found in your frozen meat section).
 Cup of flour (this is only necessary if you breaded wings)
3 Tablespoons of 8th Wonder Spice
1 stick of Butter or margarine equivalent
1 bottle of Frank's Hot Sauce (12.oz)
Directions
Make sure your party wings are thawed. Make a breading by combining the flour with the spice in a plastic 1 gallon freezer bag. After doing so, bread the chicken wings by placing 3-4 wings into the bag and shaking to ensure that the wings are covered completely. Do this until you have the desired amount of bread wings. If you are doing naked wings, omit the aforementioned step.
 Cook your wings …just 4-5 at a time. Crowding and/or rushing will result in uncooked chicken. I like to use a deep fat fryer when I make these,but you can also pan fry, or even oven bake your wings.
While wings are cooking, grab a saucepan and put the stick of butter into the pan and let melt while on medium heat. After butter is melted, add the entire bottle of Frank's into the pan. Mix the two together and there's your sauce.
Once wings are done cooking,place them into a glass bowl and carefully pour the wing sauce on top of the chicken. Toss the wings to ensure total coverage. Serve and enjoy !
 NOTE – to make variations of this sauce recipe, just add the extra flavors. For example, add Siracha , Honey, Teriyaki, or a combination of the flavors to make their respective sauces. I love making these and so my friends and family. I hope that you and yours enjoy them as well !
If you do have some guests,or if you want for yourself, you can always whip up a delicious salad and add some Blue Diamond Wasabi flavored almonds. Those bad boys pack some zip ! Or you can serve them as is with some great adult beverages … the choices are endless !
Disclosure-This post is sponsored by Blue Diamond Almonds. For more Game Changing Snacks, visit Blue Diamond Almonds on Facebook, Twitter and Instagram
Please follow and like us: