Candy Club Subscriptions & Why You Want May Want In On The Trend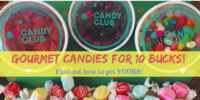 Who likes candy? I sure a heck do! I've been a lover of sweet treats since I was a kid. While I still have an affinity for a good piece of chocolate, I almost always crave super sugary candy that probably bad for me. We all have our vices, right? My love of candy brought me to try a new thing that's been trending… subscription candy boxes. I recently tried (and subscribed!) to the CandyClub.
What IS Candy Club?
Formally known as the "Candy Of The Month Club", Candy Club is a monthly box subscription in which you receive a set of 3 containers of candy. The fun part about getting the candies delivered to you is that you can choose to customize your choices by picking what types and flavors of candy that you want. Or, you can have the candy curators choose candies for you based on your preferences.
When I chose my 1st box, there was a variety of candies decided on. The candy I had were sour ribbons, 41 variety jelly beans, and raspberry creme chocolate bites. All them were really tasty, but I found myself wanting more of the ribbons (by nature my cravings lean towards the sweet/salty treats). Oh… here's a deal for you. This box subscription usually goes for $30 a month, but if you use my method, you can get your 1st box for $10 plus FREE SHIPPING!!
Here's The Deali-o
1. Go to the site www.CandyClub.com
2. Choose the 12 month box option.
3. Choose your candies.
4. DO NOT choose extra candies.
5. Enter your shipping and card info.
6. Enter the promo code – 50F-candydeal –
7. The code will take of 50% PLUS give you FREE SHIPPING.
8. The total will be $10 to pay.
9. You can choose to continue your subscription the next month OR you can cancel. ENJOY!!!
You're Still Here? GO Get Your $10 Gourmet Candy!!
Dude, I seriously do not know why are not taking advantage of this offer.  Have you looked at the photos of the candy above? This is high quality, DELICIOUS candy. It's basically what the stars get in their swag bags when they go out to parties. Soooo… go on. Get the candy. TreatYoSelf. I certainly am!

Please follow and like us: