Why Pay More For Gourmet Pretzel Rods When You Can Pay Less,And Get More ?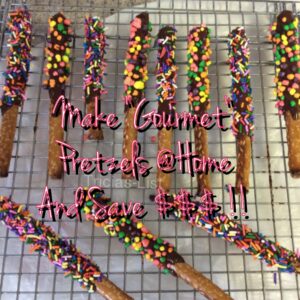 If you're like me, you LOVE anything food,and you're not ashamed to say it. This week, I wanted to do something fun with my princess and she suggested that we make "pretzels like the last time". She, of course, was talking about making our "gourmet" pretzel rods. People pay some high prices for these salty sweet snacks,and honestly … I don't know why. You can go to any store ,get your own ingredients and make them yourself for a lot less. Take what we did ,for example.
We headed to our local Dollar Tree store (everything is just $1 ),bought our favorites ingredients and toppings and made our own. The prep time is next to nothing and making them is fun and not time consuming either. Interested in making these easy gourmet snacks ? Here's what you need –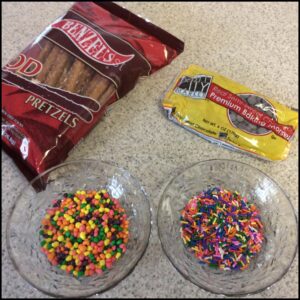 1 bag of pretzels (You can use rods or the twisted type, your choice)
1 bag of chocolate chips
Toppings ( We chose nerds candy and sprinkles this time)
Fondue pot ( or a way to melt the chocolate for spreading)
Take the chocolate chips and melt them down.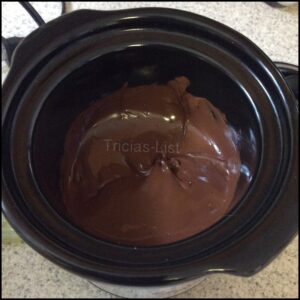 I have a small fondue pot that I used to melt my chocolate, but you can also melt the chips down by using one of these easy methods –
 Melt in a microwave  
 Melt in the oven 
 Using a double boiler  
As I stated before, I have a fondue pot, which I find is the very best way to melt. You don't have to really stand over the pot ;it just melts on its own. Once you have your chocolate melted ,you take a spoon and start to spread/pour the chocolate over one pretzel rod. It's always a good idea to do one pretzel at a time because the mixture is hot and can burn you.
Once the pretzel is covered to your liking, simply sprinkle which toppings you want on . Place your gourmet pretzel on a cooling sheet (I suggest your cover it with waxed paper) or a cooling rack with a catcher placed underneath so you won't have any messy dripping later. Repeat process until you have made your desired amount of pretzels.
Let the pretzels set for 30 minutes to an hour in a COOL area. I like to put my pretzels in the fridge so they cool off quicker. Then I place them in a plastic freezer bag for storing later. VOILA … your very own gourmet pretzels. Total cost for me to do this project – $5 … AND it amounted to great fun with my baby girl and lots of great snacks. We made a total of 12 pretzel rods,but we had a lot more pretzel rods left over for another time. If you were to pay for them at a store or online, you're looking at spending between $10 and $30 ! So tell me, are you planning on making this a Summer project for you and your family ? Let me know in the comments below ! Thanks for reading…I hope you enjoyed it !

Please follow and like us: