Take Your Hair Style & Shine BACK With Instyler!
People , it's time that we got our frizzy ,crazy bedhead hair under control ! I have been a member of the crazy hair club,and I thought that I would stay a member for life. Until InStyler found me ,that is ! I have been seeing the infomercials for years on end talking about how this device makes your hair look oh so couture,and I would grab the phone to order it.Then I saw the price.Then I started thinking, "What if this thing doesn't work for me?"…then, I would put the phone down and not order it. Simply because I had not so great results from other brands that claimed to work …and failed. But,lucky me, I was given the opportunity to review these Instyler products and guess what ? THESE HAIR STYLERS WORK !!
   The product I tried was the Instyler MAX.  I have made my own video (excuse the P.J.s I'm in ,lol) showing how easy it was for me to use MAX and I also took photos of me using it and the results I get. I think the MAX is an amazing product because it doesn't just work on certain types of hair,but it works on all types. Believe me ,I know…I have tried numerous other brands and while they help,they pale in comparison to the InStyler products ! It only took about 3 minutes for me to straighten my hair with MAX ,and I got some great shine at the same time !  I also used my daughter as a hairstyle guinea pig for this review. She has a way different hair texture than I do ,so I felt it would be good to show you all that InStyler MAX works on all types of hair. I hope you enjoy the photos ! Oh, if you are interested in buying an InStyler MAX or other InStyler product for yourself or someone, you can save 30% by going through my link and using code SAVE30  !
Tricia's Instyler hair experience :                                           Kylie's (age 12) Instyler experience  :
Want To Win An Instyler ? You CAN By Entering Below !
Giveaway starts Monday , June 22,2015 and ends Monday ,July 6,2015 at 11:59 EST. One winner will be chosen to have their choice of One (1) Instyler Ionic Pro Styler OR One (1) Instyler Tulip Hair Curler. Contest is open to U.S. and Canada. ALL ENTRY STEPS MANDATORY . This contest is sponsored by Tricias-List,and prize will be provided by Tricias-List.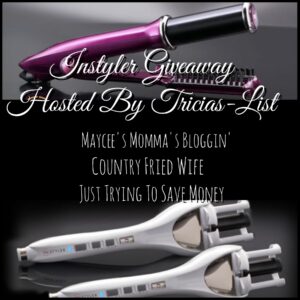 IF THERE IS A REQUIRED STEP IN THE GIVEAWAY,PLEASE COMPLETE. OTHERWISE, YOU WILL BE DISQUALIFIED.NO EXCEPTIONS.
Please follow and like us: