Dunkin Donuts, "Susan", & Preakness… How Do YOU Dunkin?
Hey, guys! Here's a little known blurb about me: I love horses. Did you know that? Of course you didn't because I never told you. But it's true. I'm kind of a country girl. I grew up around horses on my Granny's and Big Daddy's farm and I've loved them since then. I watch Preakness nearly every year so I can the horses race; Man, those beauties can go. This year I had a chance to attend Preakness in person, and I had such an awesome time! There is one event that I especially enjoyed attending, though … Black-Eyed Susan Day!
  Did You Know?
Black Eyed Susan Day is the "the defacto Second Jewel of the Filly Triple Crown"? Yup, it is. It's a  Grade II American Thoroughbred horse race for three-year-old fillies run over a distance of  1 1⁄8 miles on the dirt annually at Pimlico Race Course in Baltimore, Maryland. The event currently offers a purse of $250,000. The day is also known as "Girls Day Out" because, well, the fillies are out to race (fillies are girl horses if you didn't know).
Dunkin Celebrates!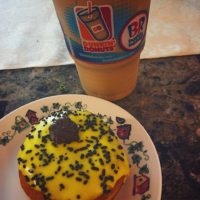 Did you know that my fave place for coffee, Dunkin Donuts, celebrates Preakness and Black Eyed Susan Say? Yes, yes they do! And they do it in the sweetest way possible… in the form of a donut! The limited edition Black Eyed Susan donut comes out in time for Preakness and the fillies day out this year. They are frosted and made to look like the black eyed susan flower. They are the filled type of donut, too. But instead of jelly, they're filled with yummy chocolate!! You should definitely grab your chance to try one when you visit your local Dunkin Donuts this week (I know you visit,lol)! You really have to hurry… I think these only come out for limited time! If you miss the Susans, though, you can always get other perfectly made donuts from the store… and don't forget your coffee!!
Please follow and like us: