Make It A Movie Night! G.H.Cretors Obsessively Delicious Popcorn
Every been in that kind of mood where you want to "so something", but don't want to go out and spend a stupid amount of cash? Well, make it a movie night! Choose your favorite new Redbox and/or Netflix movie that's out and cuddle up with your someone special. Oh… and don't forget the snacks. G.H. Cretors has definitely got you covered for that!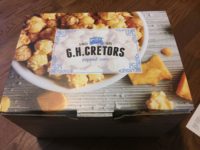 I recently had my own "Movie Night" filled with delicious popcorn snacks courtesy of G.H. Cretors. They sent me this adorable movie night kit that came with 2 family sized bags of popcorn, 2 great "Must See" films to watch, and a very cozy blanket so that I could snuggle with my S/O…  or just cuddle with myself. I totally enjoyed the kit they sent, and the popcorn flavors they chose to send me were my fave… how did they even know that??? The 2 flavors I received were "Just The Cheese" and "The Mix".
 "Just The Cheese", Please!
Real, aged cheddar cheese poured on the fluffiest, gourmet popcorn you've ever tasted—that perfectly sums up this divinely delicious, cheese lover's dream.  That sentence before was/is the company description, but it perfectly sums up my feelings when eating this. I love a good cheese flavored popcorn… for all my life. I used to go to the Popcorn Factory at the mall when I was kid and spend $7 for a small bag of gourmet cheese popcorn. G.H. Cretors, in my opinion, has taken the cheese popcorn recipe and truly perfected it. The kernels are fluffy and fresh tasting. The cheese is sense awakening.. I just love it. And I don't mind paying the $3-$4 per bag for it because it's just that darned good. Enough said.
It's All In "The Mix"
"The Mix" popcorn bag is a blend of rich, buttery caramel corn and premium, aged cheddar cheese corn. With those flavors combined, you've got yourself a mouth-watering mix of sweet and salty. I especially love the savory, sweet taste. It's like having all your cravings satisfied at one shot!
  G.H. Cretors Giveaway
Don't believe me when I say that G.H. Cretors has some of the best popcorn out there today? Try it for yourself! You can find them in your local grocery store, online on their website, or buy it on Amazon and have it delivered to your door. OR… you can enter our giveaway below and try for your chance to win TWO BAGS of popcorn! One reader will win 1 bag of "Just The Cheese" and 1 bag of "The Mix" … just follow the giveaway directions and enter to win below. Giveaway ends May 26,2017. Good luck!!!
Please follow and like us: