Gluten Free Recipe Of The Day: Skillet Chicken with Pesto Cauliflower Rice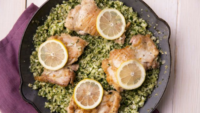 Special Thanks to Delicious Living for the awesome food share!
Hearty and tangy, this one-skillet Chicken with Pesto Cauliflower Rice is an easy recipe to whip up for a family dinner. Its ingredients are grocery staples, and are quick and easy to find.
Directions
Add cauliflower florets and stem pieces to a food processor. Process until cauliflower resembles rice grains, stopping to scrape down sides of the bowl as needed; set aside in a bowl. To the same food processor, place spinach, parsley, pine nuts, 1 tablespoon olive oil and Parmesan. Continue to process until a pesto forms.
In a large skillet over medium heat, warm remaining 2 tablespoons oil. Add shallots and garlic and stir to coat. Season chicken with half of the salt and pepper and add to skillet; cook, uncovered, for 6–8 minutes or until chicken is browned on the bottom. Turn chicken over; season again with remaining salt and pepper. Continue to cook, covered, for 6–10 minutes or until chicken is cooked through (about 160°).
Cut lemon in half. Squeeze juice from half the lemon and cut remaining half into thin slices. Carefully transfer chicken to a platter and sprinkle with lemon juice. Leave remaining chicken juices and ingredients in skillet over medium heat.
Add cauliflower to the pan, cover and cook for 8–10 minutes, stirring occasionally, until cauliflower is tender. Add pesto to skillet and toss with cauliflower until cauliflower takes on a green color. Place chicken on top of the cauliflower rice in the skillet; cover. Remove from heat and let sit for 5 minutes before serving to ensure chicken is warmed through. To serve, cover chicken with lemon slices.
PER SERVING (¾ cup cauliflower rice and 1 chicken breast): 296 cal, 17g fat (10g mono, 3g poly, 4g sat), 111mg chol, 396mg sodium, 7g carb (3g fiber, 2g sugars), 27g protein
Please follow and like us: