Angelino's Coffee – Why You NEED To Try This!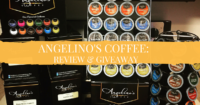 Coffee. I know a lot of people drink it. I do, for sure. Heck, I'm sipping on a cup of Pumpkin Spice java right now. With all the coffee lovers in the world, you can be sure that there is no short supply of new brands and flavors available to drink. However, I've found a company that supplies some of the best coffee I've tasted and bought in a long time. The company name is Angelino's Coffee, and they are fantastic… both for your taste buds and your pockets!
Who Is Angelino's Coffee?
DIRECT ROASTER MODEL
We source, roast, and pack our estate coffees using only the highest quality coffee beans. We cut out the middle men who store coffees from one warehouse to the next until it finally reaches you, sometimes 3-5 months after it's roasted. By doing so, we're able to provide amongst the most competitively priced and freshest coffees in the marketplace. You're always assured the best quality coffee beans, freshly roasted, packed, and delivered to you within days of roasting, and always at a fair price.
We only import the finest estate coffees, roast them in small batches using our top of the line roaster, and blend after roasting for optimal flavors. We even have our grinds down to a science, using a specially developed single cup grinder that ensures the perfect specifications for single cup coffees. Lastly, we package our coffees right after grinding to ensure the freshest, most delicious coffees for our customers.
My Experience
As a long-time, LIFE LONG coffee drinker, I am here to say that I've tasted Angelino's Coffee, and I truly love it! Maybe it's the fact that they have a HUGE variety of flavors, roasts, and strengths to choose from. Or maybe it's because the price doesn't absolutely kill my wallet. Wait… maybe it's because their coffee tastes freakin' fantastic. Oh, I know… it's all of the above!! Angelino's tastes great, they have a great variety of coffees to choose from, and the price point is phenomenal.
Did you know that Angelino's offers two 24 count boxes of delicious coffee for only $24.95? I don't know if you can get 48 k-cup of your choice of ANY flavor anywhere else for $24. You can't get it from the leading coffee company (they sell a box 24 for $14.99 and a few for a little under that). I just think that it is just a win-win situation when you buy from Angelino's. They even have a sampler to that you can get if you're not too sure about getting the bigger size box at the beginning. That's what I did when I first tried it. And now, I have a huge supply of Angelino's … and I'm loving it! But try it for yourself … use my link here ,please. Also, you can enter the giveaway below for a chance to win 2 BOXES! Good luck!!
GIVEAWAY HERE!!
Please follow and like us: