How Restore Products Can Help Improve Your Health
Have you heard anything about a product called Restore? No? You're not alone. I just recently had a chance to see what the brand was all about myself. Being a Moms Meet Blogger & Influencer, I often get the inside scoop on some of the new, natural products being introduced to consumers.
Before I tell you about MY experience with Restore… let me give a brief on what it actually is.
What IS Restore?
Did You Know? With 70% of the immune system located in the gut, optimal gut environment leads to great gut health. In my own opinion, based on what I studied from materials given to me by MomsMeet, Restore is like a super-boosted, non-toxic liquid supplement that can help your gut ecosystem build up stronger to work better. This, in turn, can help immune system be stronger and thus may result in less chance of you getting sick later in the future.
"It is important for people to know that RESTORE produces a significant outcome for gut health. I have used it extensively in my Virginia clinic as a foundation for helping to create a strong immune system and gut health. The well-proven biology of Restore demonstrates its role as a foundational resource in your pursuit for optimal health." -Zach Bush, MD, Co-founder and CEO of Biomic Sciences, LLC, Board Certified: Internal Medicine, Endocrinology and Metabolism, and Hospice Care.
I Tried Restore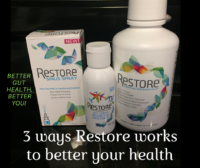 Thanks to MomsMeet, I was given a couple of Restore products to try for myself in an effort to experience what Restore says it does. So far, I have been using the products for 12 days (It is now June 28,2017). Let's do a recap of what I've discovered in this time period.
 My Restore Experience
First of, I want to tell you how Restore tastes. To me, it has clean but aloe-like taste to it. I don't know exactly how else to explain it. I want to call it tasteless, but it's not. Maybe it's just my taste buds,though. One serving of Restore is only one tablespoon, so you need not worry about guzzling down anything.
In the 12 days that I have been using Restore, I can't say that I have noticed too much of a difference. My everything seems normal and there's not been a dramatic change in my digestion,whether it be good or bad. I figure that maybe I have to continue using Restore for a full 30 days to have a noticeable change. That's what I'll do. But for now… everything is the same as every day. Not the kind of review you were waiting ti read,huh? Sorry guys, some things really do take time and patience to work through your body and its delicate system. I think Restore is one of those things.
If you're interested in learning more about Restore and its products, please visit the Restore Website or visit here make any product purchases.
Please follow and like us: