Good Food Made Simple. Simply Good Food.
As you may already know, I consider myself to be a lover of food. A Foodie, if you will. I also like to try to eat as healthy as I can. I'm not perfect in the process, but I do okay. So whenever I get a chance to try a new product line that is on the healthy eating lifestyle level, I definitely take it. Recently, I had an opportunity to work with Monica N., one of the company PR reps for Good Food Made Simple.
One of the reasons why I like Good Food Made Simple (GFMS) is because they make real food. Their food isn't processed and the company strives to use all natural, good foods like cage-free eggs and antibiotic-free meats, so it's easier for you to cook and eat healthier every day. There's no colorings, no added flavors, no modified stuff. It's just what the company says … "Good Food Made Simple".
GFMS did a product launch for their new Entree Meals in February 2017, and Monica asked me if I'd like to help in promoting the line. Of course I said "yes". Being able to try out new foods and share information about them to you wonderful readers is what I do! So without further delay, here is my take on Good Food Made Simple. The meals I have chosen and tried so far are the Uncured Bacon & Eggs bowl, the Chicken Enchiladas Verdes and the Three Pepper Beef entrees.
  I Tried It. How Did I Like It?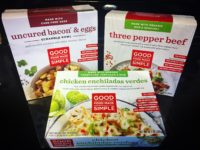 All of the meals taste very good. I enjoyed the bacon and egg bowl. It has potatoes in it,too, so it really proves to be a hearty way to start your day with breakfast. I added a little salt to the bowl, but that is because I'm a person who still hasn't been able to get rid of the "I need sodium" monkey on my back.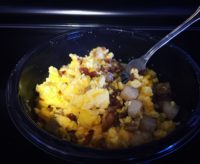 The Three Pepper Beef entree is really good. If you like your Asian based cuisine with a little spice to it, then you should give this meal a try. It has a ton of flavor and you will feel the spice on your tongue, for sure.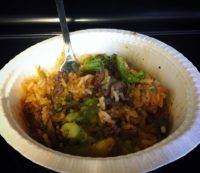 I was very excited to try the Enchiladas Verdes entree. Simply because I have a homemade verdes dish, and I wanted to see how the taste would compare to my own. Guess what? I was surprised! 4 minutes after putting the entree in the microwave, I smelled the delicious aroma of roasted tomatillos just like my kitchen smells when I cook my enchiladas. I took out the dish, and WOW, it looked sooooo good!
My Mexican food senses piqued and my mouth started to water. Oh, yeah… I was going to enjoy this. Not only did the meal smell good, it tasted divine! Not just like my homemade dish, but pretty darned good. The consistency of the actual enchilada is better than other frozen entrees; It has substance to it and it's not slimy or squishy… it's solid made food. In other words, You know that there is a corn tortilla that you're eating,lol. The verde sauce really makes these enchiladas taste close to made at home. I recommend giving them a try. I actually suggest that you give the entire Good Food Made Simple line a try. They are set with a price point that may fit any budget, and the food is healthy and tasty.
About The Company
We exist because we believe we can make food better—by keeping things simple. Starting with breakfast, the most important yet most overlooked, meal of the day. In contrast to most frozen breakfast foods laden with preservatives and artificial flavors, we use only natural, minimally processed ingredients and make all our meals from scratch. Then we freeze them to lock in the freshness the natural way, so there's no need for all that junk. Looking back it's been a fun and successful journey. Delicious too. Read on for the juicy details.
If you'd like to learn more about or find where to buy the Good Food Made Simple product line, you can visit the following places:
 But Wait… There's More! Here's A Giveaway!!!
Hey… where are ya going?! Don't forget to enter our Good Food Made Simple giveaway! GFMS is offering to give one of readers a few FREE PRODUCT coupons to try out their new Entrees! So go enter below, and good luck to you!!
Please follow and like us: