Greenwald's Citrus Cleaner
   I was able to try out the Greenwald's All Purpose Citrus Cleaner in Orange scent. It arrived in a neat little package that contained 6 water soluble packs.
First Impressions
  Special Thanks Goes To Our Guest Post Reviewer, Mary N. ! 
 The first thing I noticed was the warnings on the inside label, which were a bit alarming. The warning stated that its cause's skin irritations and that you should avoid excess handling of the pack. It also warns to not eat or drink while using this which tells me it's not safe around food. I'm assuming I can't use it in the kitchen which really sucks. It also warns that you should wear eye protection and gloves which tells me this is not safe for the skin at all. It says nothing about being safe for pets, so I assume I have to keep the dogs out of the rooms I'm using this in. These are very alarming to me as I thought all purpose cleaner means that I can use for all purposes.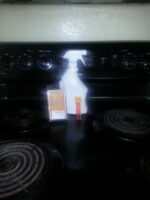 This cleaner states is cuts grease, one area in my home that needs de-greasing is my stove, and again I have food and pets in this area. I ended up mixing the mix in a spray bottle. However, If you're not careful, the rubber packet will rip wrong and spill all over. De-greasing power was pretty impressive. Ultimately, baked on grease from the microwave and stove easily came off.  Fortunately, The scent is of an orange citrus and wasn't strong at all. The mixture made a good amount of formula and I didn't need to use much to get the job done.
Yay Or Nay ?
  I was pretty impressed with the results; not so much with the precautions though. For a home with children and pets, I would not recommend it. Use it when the children and pets are away for the day and you're able to get the job done quickly.
  Company Product Description
★ SAY FAREWELL TO OTHER EXPENSIVE CLEANING PRODUCTS. You receive 6 packs that dissolve's easily into any spray bottle. Each pack makes 32 ounces of commercial grade cleaner. Your total cost per bottle is a fraction of other leading brands. NOTE: The kit includes a high quality professional spray bottle.

★ SMELLS WONDERFUL. Our cleaner has a fresh and wonderful subtle citrus fragrance. And,It doesn't linger or smell funny later like other cleaners. Especially those of a powerful commercial cleaning grade like ours. Your home will smell and feel great when you're done.

★ GETS THE JOB DONE RIGHT. You'll be amazed at how effortlessly it is to remove grease, grime and just about anything else without any leftover residue. It Cuts Your Cleaning Time by Up To HALF. Zip and your Done. Use daily everywhere in your home, office, etc.

★ BIG THINGS COME IN LITTLE PACKAGES. Our packets fit in the palm of your hand. They store easily in a fraction of the space (20 to 1) that other surplus bottles you purchase from the local discount warehouse do.
Disclosure: I received one or more of the products mentioned above in exchange for review. Regardless, I only recommend products or services I use personally and believe will be good for my readers.
Please follow and like us: