Disclamer: The reviewer has been compensated in the form of a Best Buy Gift Card and/or received the product/service at a reduced price or for free
Home Network? Ensure It's Protected With Internet Firewall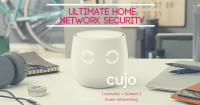 The age of technology is among us. Actually, it's been here for quite some time. But, the advances grow stronger and more complex every day it seems. There was once a time where we just used a cable or telephone cord to provide us entertainment from the TV or computer. But, now there's streaming. And I'm a huge fan of streaming; I think most of the activity that happens in my home is from streaming and doesn't include wires. Did you know that when you use the internet at home or just about anywhere, you are at risk for privacy breaches from hackers all over the world? This isn't a myth … it's a real thing.
 Don't Be That Person With No Protection
Protect your home network with CUJO Smart Internet Firewall, made in USA. The mobile app let you control your firewall's settings as it protects networked devices and smart doorbells, cameras and thermostats against hackers. Plug this CUJO Smart Internet Firewall into your router to set up parental controls and protect your online privacy. I personally think that having something like in your home is an excellent idea. The world is going the way of having "smart homes" already, why not have a smart firewall, too?
 What is Cujo?
CUJO is a smart firewall that keeps your connected home safe. From smartphones to laptops, it secures all devices against hacks and web threats. Plus, CUJO lets you control what your kids access online and keep them safe. It's easy to install, so you don't have to worry about taking forever to learn how to use. It connects easily to your own router, and you can control the device with your phone (yup… there's an app for that). The speed of the device is crazy fast,too.
You know how I mentioned that you can keep your kids safer online? You want to know how to do that? Check this out.
Parental controls features:
                  – parental controls for all devices
                  – internet filter
                  – time limits
                  – social media monitoring
                  – pause internet
                  – alerts and reporting
                  – remote administration
                  – user profiles and settings
In other words… this device is like the ultimate guard dog for your family/home network system. Only it won't get bit by a bat, get rabies and try to kill you. Ummm… hopefully.
How Does Cujo Work?
CUJO analyzes your local network traffic data locally and in real time. It then sends statistics on that data to the cloud for further analysis. For your privacy as well as performance reasons, CUJO doesn't send the contents of those packets to the cloud. If a threat or suspicious activity is detected, CUJO will tell the cloud what it has blocked so you can receive a notification on your mobile app to confirm it.
What's Included
CUJO Smart Internet Firewall (Free Subscription)
3 ft. Ethernet cable
AC Power adapter
Information card
 My Experience
I have a CUJO in my home. It was given to me complimentary in exchange for a personal review of the product. I've been using it for about 2 weeks. , and I can say that I feel a little more secure whilst going online. I like that I can put more parental control on my kids activity online because that is a big thing for me. Even though my babies are older (19,17, and 15), I still feel like people do some pretty crazy online I want to ensure that my kids are as protected as they can be. I think that having something like CUJO in home is great. So, if you're interested in knowing more about the firewall device, please visit here.
Please follow and like us: