Cooking With My New Air Fryer! #BestChoiceProducts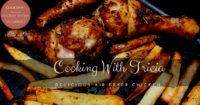 Today, I used my new air fryer. It was a really cool experience, and I was quite surprised with the results. Before I start to tell you about the fryer or even show you the video that I prepared for you, I'd like to thank Best Choice Products for providing the fryer for me to use and review.  For my first go-round, I chose to cook something that I love to eat, but also have a hard time ensuring is fully cooked… CHICKEN. Yup, I played into a well-known stereotype and decided to cook chicken for my first air fryer meal and what? But really… here goes nothing (or is it something?)!
 Starting With The Chicken… Raw
So, I grabbed a package of chicken legs from the commissary ($3.48 in case you were wondering) after work Friday night. Then, this afternoon, noon to be exact, I decided to "fry" my chicken. I also threw together some spices (that are listed at the end of this post) to season the meat with. Now, back to cooking. I took the air fryer out of its box, sat it on the counter and plugged it into the wall outlet. The bells and whistles started all by themselves and I was enthralled by them.
You turn the fryer on by pushing the little power button that is lit up. Then, you use the button with the "M" on it to choose which cook setting you want. There a quite a few, and they range from "fries" and "baking" to chicken, steak and fish. So, this air fryer is already pretty impressive with the versatility it provides. On to the next steps.
 Heating Up
Once I was sure that I knew what I was doing in terms of fryer setup, I chose my cooking specifications, which were 360 degrees for 25 minutes on the "chicken" setting. Although the air fryer comes with a few recipes for you to try, I used my own approximations for my dish. Once I set the numbers, I placed the chicken inside the fryer basket. And then I walked away for almost the whole time it was cooking. Guess what? Nothing burned! It was actually perfection. Can you believe it?! If I didn't see it for myself, I wouldn't have believed it either!
The result was delicious, tender, and moist chicken legs. Oh yeah… they were cooked all the way through, too. Am I impressed? HECK YEAH I AM! I personally think I will be using my air fryer a lot more regularly this year. In fact, I think that I may put away that big oil-taking fryer I have. Why, you ask? The Air Fryer has all of these handy-dandy perks that your run-of-the-mill deep fryer could never dream of:
Easier to Use
Easier to Clean
Safer to Use
Less Grease
So, that's my experience with using an air fryer for the first time. Hope I don't sound biased …I just liked the results I got from the one I own, which is a 1800 W Digital Air Fryer from Best Choice Products. And now… here's a video (or two) of the Air Fryer in action for your viewing pleasure!