Hope Rocks Jewelry !
Disclosure: I received one or more of the products mentioned above in exchange for review. Regardless, I only recommend products or services I use personally and believe will be good for my readers.
So… I am not usually the one to wear jewelry. It's true. I have a few beautiful pieces that I have collected over the years ( a big ruby pendant with diamonds on it, my grandmother's pearls, a HUGE diamond watch I won), but I don't have a lot of jewelry. Most of the jewelry I wear out is costume because I fear that I am too hard on the pieces or I think I will lose it. In any case, I do love jewelry. It is a great way to show your personality or to accessorize with an outfit that you may want to add some "pop" to.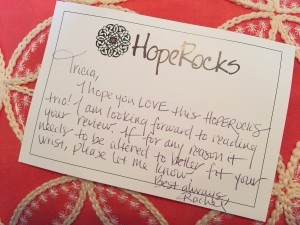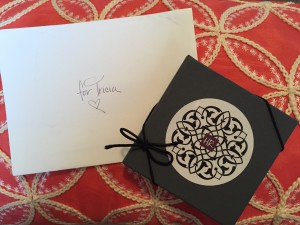 Lucky for me, I was offered an opportunity to work with Hope Rocks Jewelry company. Brenda, one of the company's  representatives, asked me if I would like to review one of the stunning pieces that are featured on the Hope Rocks website. Of course…I was very thrilled to do it,so said "Yes" instantly ! The piece that was sent to me was the "Rachel", and … WOW… just wow! I love it!
 What Is The "Rachel" ?
When I first heard that I was getting the Rachel, I was like, "wait… a haircut? What?", lol. But nooooo , silly … it's not a haircut in homage of the best chick from "Friends". The Rachel is (company description below):
 This trio is an absolutely GORGEOUS combination of amazonite, larimar, and smoky quartz, accented with sterling silver. It's the kind of jewelry that feels good on your arm and makes your day brighter just by wearing it.
Amazonite – Self Love and Inner Calm
Amazonite, also known as Amazon Stone, is a variety of Feldspar named after the Amazon River in Brazil.
Amazonite is believed to enhance one's ability to communicate about love, and to foster courage.
It is also said to have a soothing effect on the nervous system; to help calm emotions; and to alleviate worry and fear. Internal Diameter: 7 Inches.
 Why I Love The Rachel
When I received my Rachel, I instantly fell in love with her. The packaging is very pretty and presentable and the bracelet trio itself is full of life and color. It's not the in your face" type of colors that some jewelry has, but the colors are, to me, a more down to Earth calming color scheme; more neutral if you will. The Rachel is not a skimpy trio, either. This is high quality fine jewelry that is sure to last forever and please the pickiest of jewelry lovers. I am so very appreciative that I was able to review this piece, and I can see myself in the future buying other pieces from Hope Rocks Jewelry for close friends and family!
Would you like to have a chance to have your very own "Rachel" set? Enter our giveaway here !!
Please follow and like us: