#1 Organic Candy In The World -YumEarth Organics
YumEarth organic candy is a true gourmet experience for families of all ages. From the new VEGAN YumEarth Organics Fruit Snacks to the classic YumEarth Organics Gummy Bears with their unmistakeable gummy bear bounce  to the refreshing Wild Peppermint YumEarth Refresh Mints ,to the sweet and sour yum of the newest YumEarth Naturals Sour Beans, there is a lot to enjoy.  They're made with real fruit extracts and no gluten, dairy, nuts, soy, or artificial colors and dyes. YumEarth. All of YumEarth Organics snack packs contain 0.7oz per bag. They also offer vegan Fruit snacks! Available at –
I love eating YumEarth candies ,and I truly enjoy knowing that when I give them to my kids,I am giving them the best, most natural candy that are out there. I prefer to eat the gummy bears,though. Sometimes, when I just want a chewy treat,I grab a snack pack of these and my sweet craving is satisfied ! They are so delicious !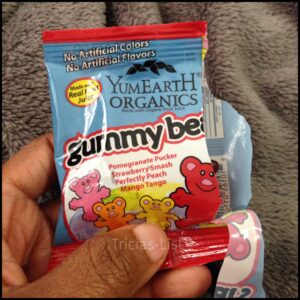 YumEarth also has these other amazing products !
Please follow and like us: