Tricias-ListWarning — this post contains truly biased comments !
So, I'm sitting here on the sofa ,after a long and exhausting morning. But even though I am drained from the morning's demands, I am still readying myself for ,in my mind, an all important event – Football Sunday.
Now, this isn't just any football Sunday ,either. This is the precursor to the "big one"… this is the end of the playoffs. The determining factor of which two awesome teams will be the 2 lucky ones to go head to head,"Mano y Mano" during Superbowl. I am totally excited for today because this day is like the baby Superbowl, PLUS it's got real rivalry going on tonight.



The Seattle Seachick… er I mean , Seattle Seahawks, are battling their nemesis the San Francisco 49's ,and my boys ,The New England Patriots, are going against the Denver Broncos.The Seahawks and Niners have faced each other 2 times this season already,and they are tied with one win a piece, so this is the tiebreaker..the back breaker,the "My team is so much better than yours that we knocked out of Superbowl contention" bragging right football fight.It's gonna be brutal !

Now the Patriots/Broncos are not truly rivalry teams,but the one of the two best quarterbacks in the NFL are going against each other.Tom "he's so dreamy he can be my baby daddy" Brady will be leading his Pat Pack against Peyton "cut that meat" Manning and his Broncos. If you know about the Brady/Manning rivalry, you'll understand that any time these two QB's get together,the NFL analysts get all kinds of flustered and excited. These boys play some darn good football,and the game is always adrenaline pumping ! It's going to be an epic battle and I can't wait to see who will be left standing after the all the dust and turf has settled. As you can probably, I love my football, lol ! Let's gooooooo …Footbaaaaaaaaaal Sunday !! Who will will and represent their fans for Superbowl ? Well who wants it bad enough ?!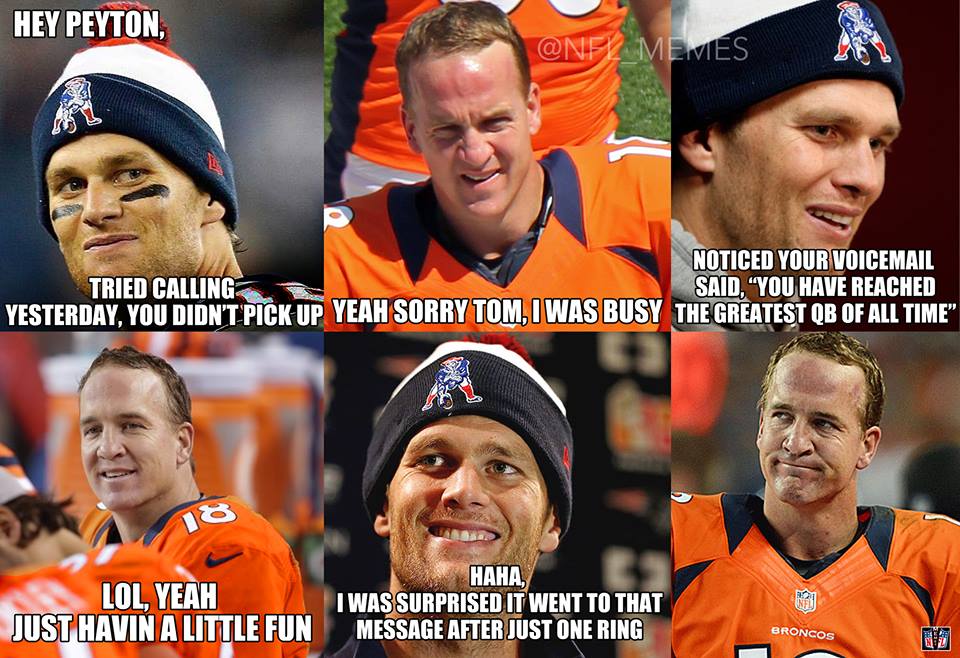 Please follow and like us: