Contact Lenses For Cosplay Or Everyday Use
I have had horrible eyesight since I was a little girl. So I have been through the ringer when it comes to bad eyeglass choices that I thought were "in". Nowadays, though, I have mu own style of glasses that suit me,my face, and my personality. But, I also wear contact lenses. They are my way of being playful with the fact that I am blind as a bat without my glasses. Plus, I like to be reminded of how I would look without glasses.  I wear both clear and colored contacts  lenses. The colored contacts are my favorite to wear because then I can play around and become an exotic looking person with the color change.
Some people who don't have eyesight problems also wear contacts lenses. They use them to enhance their eye color and they use them for another purpose … Cosplay .
cos-play
käzˌplā,ˈkäsˌplā/
 noun
1.

the practice of dressing up as a character from a movie, book, or video game, especially one from the Japanese genres of manga and anime.

 
I have a couple of friends who LOVE cosplay, not to mention… my kids are pretty into the trend.  I think the Cosplay trend is here to stay and will live on for long time. My daughter and son (12 and 17) both want to attend ComicCon and they want to dress as their favorite characters from some show called "Deathnote" or something like that.
Anyway, for real cosplay fans, they tend to get really into their character,so they often mimic the appearance to a tee ; that includes eye shape and color. This is where the use of contact lenses come into play, and Lens Circle helps .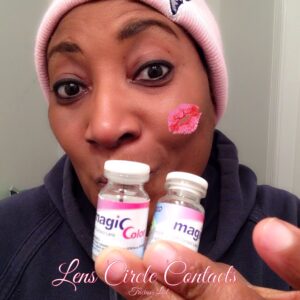 Lens Circle is a great online site where you can purchase just about any contact lens you are looking for when it comes to cosplay. And yes, they even have contacts that make your eyes as pretty or as "normal" as you want them to be. The Lens Circle company sent me a pair of contacts (type and color of my choice) to try out for myself. I chose a more demure pair this time,but now that I know how they feel ,I will more than likely get other pairs for my kids … to go with their cosplay.  As you can below, Lens Circle contacts come in a glass bottle that is sealed to ensure sterility and cleanliness for your lenses. I especially love that it comes with a case and a pretty leopard print satchel for storing…very chic !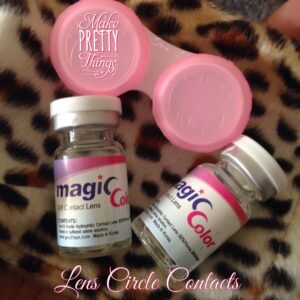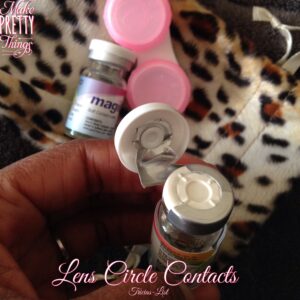 When you go to the Lens Circle site to choose and order your contacts, you see that they offer prescription lenses,which is a big plus for me.  I ordered my contacts and had them at my door in less than 4 days. That a shorter waiting period than some eyeglass stores ,and I didn't even have to leave my house to get them !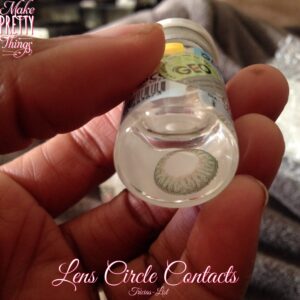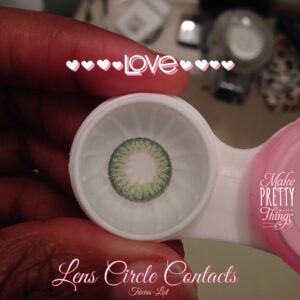 I especially love the fact the eye color looks ,when put in my eyes, the way the describe and show the color on the site. No falseness there,and I love it ! I usually wear grey colored contacts,but  am really digging the new green ones that I received from Lens Circle …what do you think ?
Please follow and like us: