Easy Make At Home Potato Skins
Hey,Everyone !
I don't know how many of you know this,but I LOVE food…thus making me a foodie. On many occasions, I like to whip up something delicious to eat.Sometimes it's healthy ,and sometimes it's just … well ,not. Today I wanted to share a really quick and easy appetizer to make ; Loaded Potato Skins.
Now ,I go to my local Chili's restaurant and I always order this delicious app.It's a good $9 spent , in my opinion. However, there are times when I don't want to drive to a food joint to get my foodie fix on. So, I decided to make these apps at home … from scratch. It's really easy to do,in fact. All you need is the following –
4 small baked potatoes (or medium sized,according to your hunger level)
1 1/2 to 2 cups of cheddar cheese
1/2 cup green onions
1/2 cup cooked and diced bacon
2 tbs butter (melted)
Now, Make it!
Now there are 2 ways you can bake the potatoes. You can truly bake them in the oven, OR you can "bake" them in your microwave. I do the latter ..which makes this an easy dish. Once you have the potatoes baked and the flesh is soft, cut each potato in half. Gently scoop out some of the potato and make it sort of like a mashed potato,but not too mashed. You do this to fluff out the potato. Once you complete that ,spoon the potatoes back into the skins. Drizzle some of the butter onto each potato half,then top with cheese, green onions, and bacon. I like to make sure that cheese is melty,so I pop the skins into the microwave for 1 extra minute to melt. Once that is done, you're ready to eat …Enjoy !
I like to serve my skins with additional finger food that I make at home .. like chicken finger ! What will YOU serve with your potato skins ?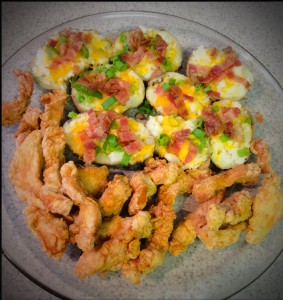 Please follow and like us: