Popcorn Time! You ever have fun movie days/nights? Like those nights when you get cozy with your favorite blankie and binge on Netflix or Hulu? I have had more than a few those from time to time. Well, what are you go to snacks for movie time? For me, it's some yummy sweets that you can buy from a dollar store, a cool drink (or two). And definitely popcorn needs to be included on the snacking list. Usually I get some packaged or microwave popcorn, but this time, I made a more natural,better for you choice. This time, I popped popcorn on the stove and I used Malaysian Palm Oil. Fancy,right?
What IS Palm Oil?
Palm oil is an edible vegetable oil derived from the mesocarp (reddish pulp) of the fruit of the oil palms, primarily the African oil palm Elaeis guineensis (wikipedia). Palm oil production is vital for the economy of Malaysia, which is the world's second- largest producer of the commodity after Indonesia.
Malaysian palm oil is naturally free of trans-fatty acids. It is a healthy replacement for traditional hydrogenated oils, such as soy and canola. Palm oil is nature's richest source of heart- and brain-friendly vitamin E tocotrienols. Antioxidant-rich palm oil has a balanced fatty acid profile and a neutral effect on blood cholesterol. Red palm oil is also an abundant source of pro-vitamin A carotenoids.
How Does It Taste/Cook?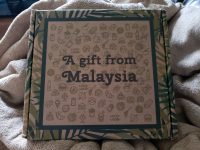 I received a Blogger Kit from MomsMeet that included Malaysian Sustainable Palm Oil. I used the oil to make popcorn, as I mentioned earlier in this post. The oil cooks really well. This oil has one of the highest smoke points of oils, coming in at 440 degrees F. Only a few other oils have a smoke point higher than it. My Malaysian oil help to cook up my popcorn nice and fluffy, and it only took a couple of minutes to get it ready. Movie night started, and I enjoyed every film and every bit of my better for you popcorn. If you want to know more about Malaysian Sustainable Palm Oil, consider visiting PalmOilHealth for more info. They have some pretty amazing recipes listed there, too!
Please follow and like us: