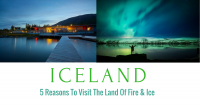 For more than a few years, I have had the travel bug bite me. At first, it was just cities and states in the United States or U.S. territories. But now that my kids are older, I try to travel abroad more. One place I love is Iceland.  There is so much to learn and see in the country. My first visit there was quite an eye opener.  I specifically traveled to Iceland because I wanted to visit the spas there and see the northern lights. Yup, I'm one of those people,lol. I'll share my reasons to visit Iceland here in this post, and hopefully it will help to shed some traveler's light/info to you in your vacation decisions.
5 Reasons To Travel To Iceland
1) Inexpensive Airfare.
The cost of a roundtrip from most places in the United States to Reykjavik, Iceland are fairly cheap. For example, if you were coming from Baltimore, you could easily  get a flight or about $220. Or, if you're coming from California, you could get a RT flight for about $400. Nope… not even joking. You just have to be quick on the mouse clicker when you see deals like that. Or… you could contact a Travel Agent to help plan your trip and get more bang for your buck!
2) Beautiful Atmosphere.
Iceland is a pretty striking place. It's known as the "Land Of Fire & Ice", and for good reason. Some of the largest glaciers reside there as well as some of the most active volcanoes! Just to be able to see both of those natural masterpieces is enough reason to place this country isle on your Travel Bucket List.
3) Safer To Travel To.
Bet you didn't know that Iceland is one of the safest countries in the world to visit. It's true! The crime rate there is incredibly low and medical care is excellent. You probably have to worry more about nature being more harmful to you than anything else (don't forget that active volcanoes are there).
4) Aurora Borealis.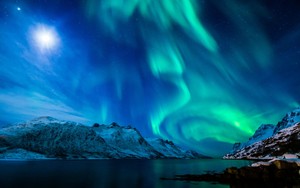 The first time I saw the Aurora Borealis, or Northern Lights, I was absolutely stunned.. It's so beautiful and full of these amazing streaks of colors. The lights remind you of how awesome nature is and gives you a bigger sense of appreciation for mother Earth in general. Well, at least it does for me. If you want to see the Northern Lights in Iceland, I suggest that you make plans to do so as part of a Winter vacation; the lights are most visible during the winter months.  Don't fret, though! The winters in Iceland can be quite mild.
5) Adventure Of A Lifetime.
A visit to Iceland is something is pretty out of ordinary. How many people do you actually know who have been to this beautiful place?! It's not just a "pretty place to visit", but there are so many new adventures there to experience. You can go to relax in the spas and healing hot springs ( a huge attraction), or you can venture out more and go trekking across the land. I recommended that a mixture of action adventure and rest relaxation during your stay. That way, you can see all that Iceland has to offer.
There are day trips and tours where you could go whale watching and/or horseback riding. And there are other group/guided tours … just in case you don't want to go off by yourself.  Check out Highland Tours So, next time you plan a trip, give Iceland a look-see. It may be the best vacation yet!
Please follow and like us: