Holidays Everyday!!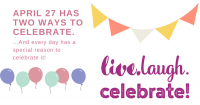 You guys, it's April 27!! Do you know what that means? It means that today is Arbor Day!
Always the last Friday in April, National Arbor Day is the Tree Planter's holiday, and has been celebrated since 1872. It began in Nebraska, a largely treeless plain back in the 1800's. It is a day to plant and dedicate a tree to help nature and the environment. Millions of trees are planted on this day.
The National Arbor Day Foundation provides millions of trees for planting. It is estimated that 18 million tress are planted each year on Arbor Day. I think that one of the best things a person can do to celebrate Arbor Day is to go out and plant a tree, bush or shrub. It's a great way to help the environment as well as contribute to the beautification of your neighborhood.
I have plans of going to Home Depot and buying a few berry bushes to add to my steadily growing garden. As it stands right now, I have a greenhouse full of edible plants. Yeah, you can say that I love to grow things, and my greenthumb has gotten pretty damned good, lol.
Another Fun Celebration Today!
In my blog title, I said that April 27th meant TWO awesome things to me. One was Arbor Day… the other is Prime Rib. Did you have any idea that today is also National Prime Rib Day? It's true! Now, I know that some of you are not meat eaters, but I am and I cannot wait to get off work and head to The Prime Rib at my local casino and crush a hefty plate of meat and potatoes. I don't know how, who, or where this "National Day" started, but I am grateful and happy to celebrate it,lol!
Are you going to celebrate either one of these holidays today? If so, which one? Leave your thoughts in the comment section below…I'd love to chat with ya!
Please follow and like us: