Do You Know African American History?
African American history is a topic that many people sometimes cringe at talking about. Black people like myself fight to Black history taught in school.  Some "people" don't want to even acknowledge that there is such a thing.  They're perfectly happy to deny that we and our history  exist.  Some choose not to talk about it because they feel ashamed of the events that went on. Others still , choose not discuss Black History because the refuse to accept their families' possible connection to slavery. Also, there is the feeling that maybe being shown the raw truth of it all may incite & anger the African American community (ya think?).
But even with those thoughts of fear, shame, and doubt, the majestic National Museum of African American History & Culture was created and built for all to visit and see. I went to visit for my first time in January 2017. It was a very emotional visit. I had all the emotions… pain, sorrow, happiness, relief, pride, and yes… anger.
Not "Just A Museum"
Most of the time when I travel and go visit places, it's to just have fun and be carefree. Not this time. I had been hearing a lot about NMAAHC , and I knew that a visit to the museum would be a possible shock/jolt to me, especially as a Black Woman. I had recently discovered information about my lineage, and found that my great great grandfather was indeed … a slave.
When I saw the information pop up on my computer screen, my heart stopped and dropped, and I felt a wave a sadness come over me. I still feel that same sadness right now; It will never go away.  As a person who comes African American descendants, it's a given that my elder family were slaves. But, it's a different feeling altogether to actually see your great grandpa's name show up on a ledger and a dollar sign showing how much someone bought him for. And then, coming to realization that "my grandparents were bought, sold, and treated like cattle". It hurts, and the hurt never goes away. Trust me on this. I'll divulge more on this topic on a later date. Now…I want to talk about the museum visit.
Take A Walk With Me
The outside of the museum looks geometric in design. I can't quite explain what it looks like to me… kind of temple-ish.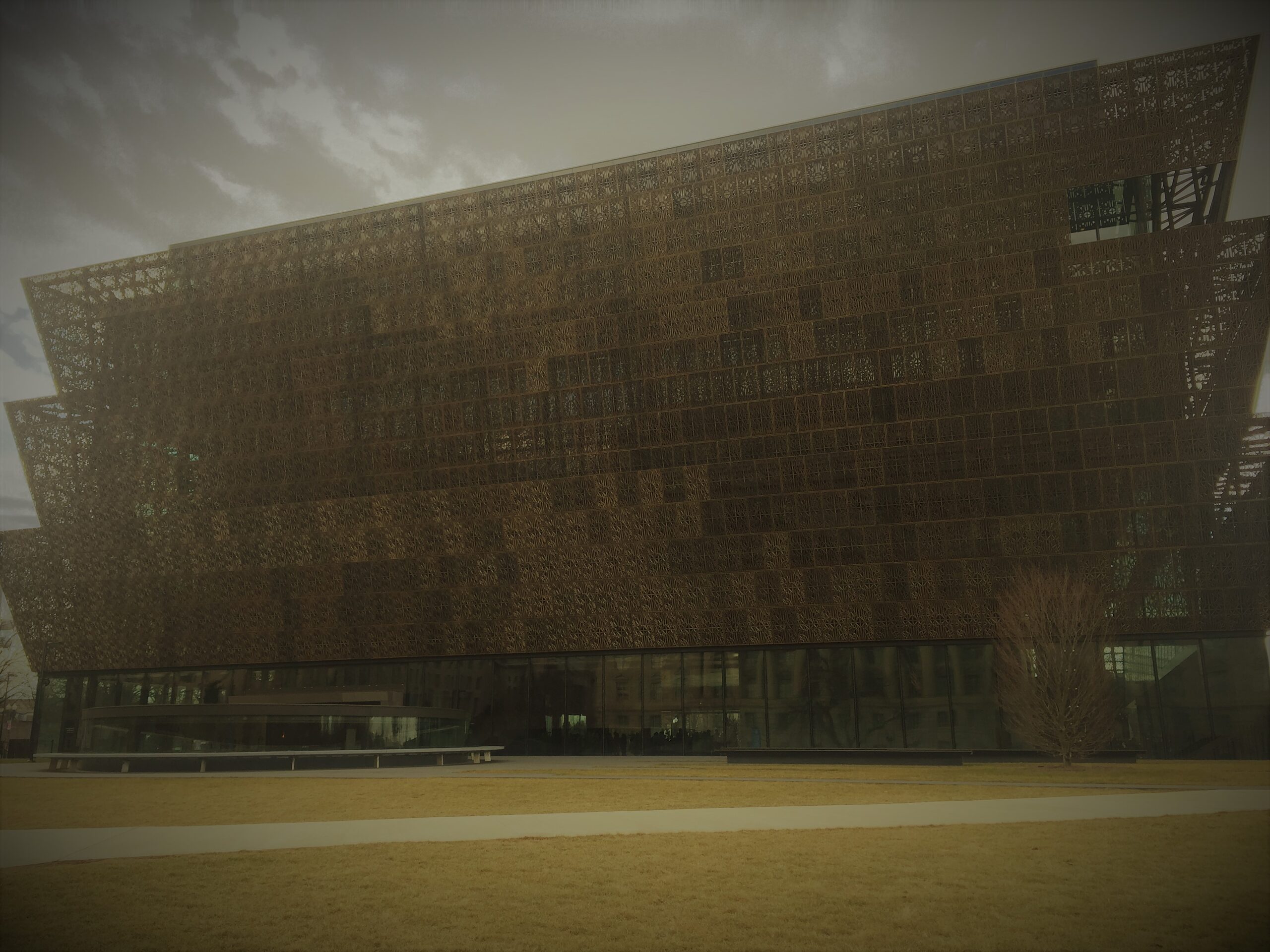 Once you get past the waiting line, you enter a large room and you're greeted by a sign that issues you a warning of sorts. It tells you that all the things you are about to see are real. There's no sugar coating or watering down on what horrors occurred or even what honors were given … if it happened in our Black History here in America, then it will be there. This museum is not here to focus on just one or two African American issues; it here to tell all of it.
I totally appreciate the fact that everything is laid bare for all to see. When you visit the museum, you learn that slavery was not just an American phenomena; many other countries and races participated in this awful exchange…including other Black leaders.
Eye-opening Introduction
The NMAAHC introduces you to African American History via elevator. That is, you enter an elevator with other attendees and then… you go back in time. You start in present day and as the elevator descends to the lower floors… you see the year, decades, and centuries go by until you reach the beginning of the past. Your journey starts at the basement floor the minute the elevator door opens for you to exit.
You see all types of unsettling proof that yes, slavery did exist and it was brutal. I knew that slaves were shackled and kept in very close quarters when they were on the ships, but to be able to actually see the shackles that were made for babies, it hurt my heart. It hurts me right now to even write about it. It's like … "really? You needed to shackle little babies, you bastards?".  Don't believe my words? Maybe the photos will hit home for you,then.
Mind you, this is only the first room of the first floor of the museum. There is much more to see and many, many decades to learn about. But this level, in my opinion, can shake a person down to their knees. Stay tuned for Part 2 of this series… coming soon.
Please follow and like us: