Boo. Football season is over. But that doesn't mean that you can't still show your football pride ! You can still watch sports on TV and have your " wingman " right by your side.
                   My WINGMAN ®… He's Got Your Back !
Disclosure: Tricias-List received one or more of the products mentioned above in exchange for review. Regardless, we only recommend products or services we use personally and/or believe will be good for our readers.
Are you a person who loves their snacks and their sports ? Do you hate leaving bowls and cups all over the place? Check out My Wingman  and get prepared for football season 2015!
What Is My Wingman ?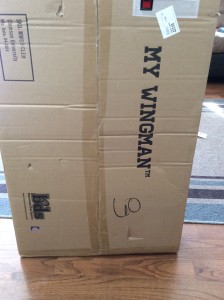 My Wingman® has been an idea that Ken and Cathy  (the creators of My Wingman) have been developing for several years. The timing couldn't be better to bring to market this fun and innovative ultimate fan accessory for tailgating parties, fan caves, dorms, homes and offices everywhere.
The My Wingman® product is "an idea inspired by the unmet needs of avid sports fans to display their passion for their team while providing support for their food and beverages. It is the first in a series of My Wingman® products planned by Basement Dad Sports ™ and will soon be the "must have" tailgating accessory for all true sports fans." (Basement Dad Sports)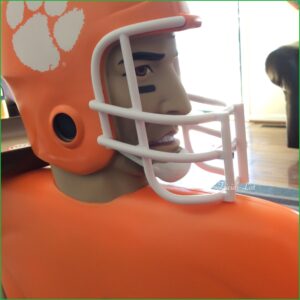 I was given the super opportunity to have my own My Wingman ,and I love him,lol ! I think that this is one of the most unique and creative products I have seen in a while. I also believe that My Wingman should be a a top choice in any football enthusiasts home !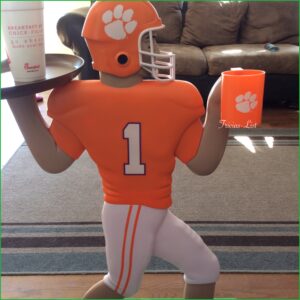 My Wingman does requires some assembly when he arrives at your doorstep, but the assembly is quite minimal. It's more like "enter peg here" two times and you're done.  He stands almost 3 feet tall ,and he's a perfect snack serving guy ! My Wingman is in his touchdown throwing , which gives him the form to hold drinks and or snacks on football shaped tray. I love that there is a place to set you snack plate and there's a place to put your beverage with cup holder. You don't have to worry about My Wingman toppling over because he's a very sturdy weighted base. Note – Avoid putting too much weight onto the serving tray;it's only allowed a certain amount of weight.Also, do not place My Wingman in an area where there will be a lot of people walking through.It may cause blocking of passage (just like a good tackle) ! 
As you can see from my photos, I am using My Wingman as leisure type server right now, but he will soon be making his way down to the entertainment room/bar.  I really enjoy having him in the house; now I don't have to worry about my Corgi getting into food ! Thanks, My Wingman !!
UPDATE !!!  My Wingman now has a CREATE YOUR OWN Wingman,too !! That's right..if the site doesn't have the Wingman you want ,you can get a plain one and create your own team Wingman. I got one for myself ,and I am in the process of creating my own team mascot guy. Can't wait till all my trimmings come in so I personalize him. BUt until they do, I am sharing photos with you of what they CYO wingman looks like compared to the pre-designed one. Also .. super awesome news …
I AM HOSTING A WINGMAN GIVEAWAY AND LUCKY READER WILL WIN !! STAY TUNED !
Please follow and like us: