National Dog Day Is August 26,2017… How Has Your Pup Impacted Your Life?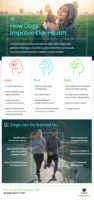 For any one who has a dog, I want to say HAPPY NATIONAL DOG DAY! I'm a dog owner,too! When I was a kid, my parents had a dog that didn't connect to because I always fancied myself as a cat person. I don't know, maybe it because I had watched "Cujo" one too many times, and I was put off by dogs,lol.
 Must Love Dogs
When I grew into an adult, though, I realized that I was indeed a dog person. I wanted to own a dig many times, but the situation never allowed for it, I was either in an apartment that didn't allow them, or it just wasn't the right time financially to get one. That and … I didn't really know which dog to get for myself. Then, I had kids. My baby girl was about 6 or 7 years old at the time, and she was dog sitting for my neighbor. The neighbor, named Autumn, had this cute little Chihuahua named Harley, and my daughter  babysat it for almost 2 months. Then, Harley left back to her mamma. My daughter was super sad and missed Harley. So an brilliant idea popped in my head.
Yeah… Brilliant Idea
Let's take baby girl to WAIF to go visit the animals there! You know, since baby girl loves animals so much, why not, right? So… off to WAIF we went. At first, I was a little apprehensive. Most of the animals I saw were cats, but the dogs I did see were either HUGE or very hyper. There was a Newfoundland there and there were a lot of Pit Bulls, but the Newfie was too large for me and those Pits were jumping up and down like they were trying to scale the fence!
Anyway, after seeing those dogs, I saw some others that caught my eye. 2 cute little Beagles, 1 tiny little "Toy"  pup, and another really cute, well behaved pup. I saw the toy pup, and I just really wanted to adopt it. I'm pretty sure it was because there was a trend going on about owning a small dog you could fit in your purse and dress up like a kid, but still…the doggy was cute! Unfortunately, that dog had already been claimed/adopted and it's parents were on their way to pick it up.
Fortunately for me though, the other dog… the well behaved one… was there. She was just sitting there, looking at me with those big beautiful brown eyes of hers. The dog wasn't aggressive towards me. She had a look in her face/eyes that just seemed to call to me and say, "Hey, Girl… I'm here for you". And, I instantly fell in love with her. Now… remember how I said that I was talking my baby girl over to WAIF to visit the animals? Well, I ended up adopting a puppy! Not because my daughter wanted me to, but because the dog and I connected,lol.
 I Did It…Now What?
I adopted Roxy ("Serena was her pre adoption name) for $75. She was/is beautiful Welsh Corgi…purebred. According to WAIF, the owners brought her to the shelter because she was "a biter". I say that was a untruth because our Roxy has never ever bitten anyone, and we've had her now for over 8 years. Roxy is an amazing dog and we love her. She's a great therapy dog; She's been there to keep my daughter company when my son went off to live with his dad. Roxy is great at comic relief, too. I don't know if she knows it, but we always get a kick out of her running in her sleep. It's a thing that I have seen and heard many other Corgi's do.
Roxy Has Our Heart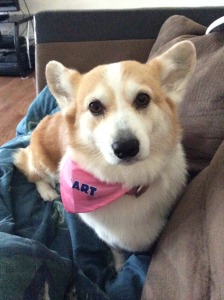 I don't know what I would do without our Roxy. One time, Roxy got of the back yard, and we couldn't find her. For 2 days we didn't know where she was. We as a family were devastated. All we thought about "where was Roxy?, "Who has her?", "Is she alive?". It really hurt us. But luckily, we got her back. Turns out, someone picked her up after seeing her alongside the road because they didn't want her to get hurt. They, too, were a Corgi owner …. they actually have 3 Corgis of their own! They found our home, and brought our Roxy back home to us… REUNITED!
When people say that dogs (or pets in general) are like family… believe them because it's true. My family and love our Roxy. She may be a quiet and stay sleeping in her bed, but her presence is appreciated always. And, when she's gone, I feel the emptiness. Heck, I even feel it when she's gone to the groomers for half a day… I always miss her.
So, of you have a pup…. you're lucky. Bend down and give that beautiful baby a hug and a kiss because they are amazing. And you know it.
From Me & Roxy To You…. Happy Dog Day!!
Please follow and like us: