The New 2017 Pink Ribbon Mat Collection Has Arrived At Carpet One!

As a person who has been touched by the dreadful "C word" numerous times , I always stand to be an advocate for raising awareness of all cancers. There was my cancer scare 2 years ago, 2 of my girlfriends are breast cancer survivors, and my young cousin Hunter passed away 2 months after his 1st birthday from child cancer.
This month of October, however, is Breast Cancer Awareness month. And, I wanted to share a way that you add your support to the cause. Carpet One Floor and Home is doing their annual Pink Ribbon Welcome A Cure welcome mats, which support breast cancer research. For each $24.99 ($34.99 CDN) mat sold, 25 percent of the proceeds directly support the five-star rated Breast Cancer Research Fund. To date, the company has raised almost $1 million from mat sales. I think this is a nice way to bring awareness as well as raise money to support the fight to find a cure.
 The Mats Are Sturdy And Beautiful
I was given my choice of one the mats to review this year. I chose the "Hello Gorgeous" mat. The design is by interior design expert Lisa Mende. In my opinion, I adore all of the mats, but I really like "Hello Gorgeous". The mats colors represent the fight against breast cancer, and it's artfully designed while instilling a message of self esteem and confidence at the same time.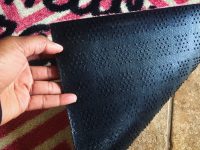 The mat itself is very resistant and sturdy. It's ribbed non-slip rubber backing ensures no mat moving around and it is thick. It's not a flimsy mat at all, and I think the price point of $24.99 is perfect.
This year's collection taps new talent
The 2017 pink ribbon mat collection features 18 designs, (Go here to see all designs) including interior design experts Melissa Davis and Lisa Mende. The pair pull from their personal experience to create dramatic, impactful mats that fit any home decor. In addition, graphic design artist Justin Niederkorn has tapped his artistic talent and love for the women in his life to create a mat that graphically tells the important story of a breast exam.
Mikayla Chandler is a Savannah College of Art & Design advertising and illustration sophomore. She created a powerful image of lines that seem almost inter-connected, and resemble the shape of a breast, swoop of a cup and wisps of hair. The two graphic designers have created edgy and thought-provoking artwork that add to the fashionable and functional collection. Mats will be available in participating Carpet One Floor& Home stores throughout the U.S. and Canada beginning in October.
About Carpet One Floor & Home
Carpet One Floor & Home  is North America's leading floor covering retailer. With 1,000 independently owned and operated locations in the United States, Canada, Australia, and New Zealand. Carpet One Floor & Home stores are known for a broad selection of carpet, wood, laminate, ceramic, vinyl, and area rugs. They offer a unique customer experience with the exclusive Select-A-Floor merchandising system that simplifies the shopping experience. And The Beautiful GuaranteeTM, which guarantees that the customer will be 100% happy with their floor.
About The Breast Cancer Research Foundation®:
The Breast Cancer Research Foundation (BCRF) advances the world's most promising research to eradicate breast cancer in our lifetime. Founded by Evelyn H. Lauder in 1993, BCRF has raised more than $500 million to fuel discoveries in tumor biology, genetics, prevention, treatment, survivorship and metastasis. This year, we invested $45 million in the work of more than 200 researchers at leading medical institutions across six continents. By spending 91 cents of every dollar on research and public awareness, BCRF remains one of the nation's most fiscally responsible charities. We are the only breast cancer organization with an "A+" from CharityWatch, and have been awarded a 4-star rating from Charity Navigator 12 times since 2002. Join us at www.bcrfcure.org.
  Would You Like A Chance To Win Your Own "Pink Ribbon Welcome A Cure" Welcome Mat? Here It Is!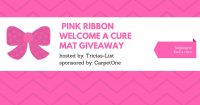 Carpet One is giving you a chance to own one of these beautiful mats. All you need to do is following the super easy steps below to enter for your chance to win. DO NOT ENTER AND THEN NOT COMPLETE YOUR PART OF THE ENTRY. I will be checking and verifying,and I will disqualify people who try to be dishonest entrants. This giveaway is open to Canada and US residents. Good Luck.
Please follow and like us: