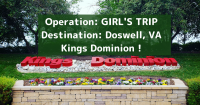 Hey, everyone! How's your Summer going so far? For me, it's kinda "eh", but still good. I parted from the outside job I had for over a year, and now I'm back blogging and traveling full time. Trust me, I needed to make the break. Anyhoo, I wanted to do something fun and bonding with my group of girlfriends. So, I planned a weekend girls getaway. The location? Doswell, Virginia… at Kings Dominion.
Why Kings Dominion?
When I was making the plans for the girls trip to Kings Dominion, I was by a few people, "why do you want to do it there?". Well, it's simple. I get to do the following:
Go On A Road Trip
Visit A Fun Theme Park
Stay At A GREAT KOA (Camp Wilderness Campground)
Spend Time With My Girls And Be Unbothered By "Real Life" Problems For 2 Days.
Also, KD has the amazing Taste Of Virginia event happening all month. It's a great opportunity for Foodies to get a taste of what Virginia has food and drink wise!
On The Road
It was decided that my Girl's Trip would consist of 6-8 ladies, myself included. It turned out with 6 ladies total. The group was Myself, Kaprina, Bonita, Kim, April, and Kelley. Me, Kaprina, and Bonita all rode together from MD, and we met Kim and April in VA. Wonderful Kelley drove in later from MD because she had prior events to attend (she's a Karaoke Host!). As I was the host of the weekend getaway, I drove myself and the girls to VA. The 2 hour drive was pretty easy to do and it was comfortable ride. Partly due to the vehicle I was driving, which was the Mazda CX-9. This SUV not only powerful, but it is sleekly designed, spacious, loaded with extras, and… it's frigging beautiful. I can say that I fell in love with the vehicle. So much so that I am in the process of trying to make plans to buy one for myself. (the one I drove was a loaner). I mean… do you SEE how beautiful this thing is? I think that color makes the car look even more appealing,too, because the red really makes it pop.
This Car Is Pretty Awesome
I love that this car has so much power and elegance to it. I'm not a hard core gear-head, but I do have an appreciation for well put together vehicle. And the extras?  People… the extras in this Mazda are phenomenal. You have the rear camera that assists you in seeing if anything is your way in the back. And that feature also can be used a guide to backing up when you're parallel parking. There's a sunroof (extra cost option) so you can let the breeze in whilst driving in the nice weather months, heated seats in the front AND the back seats, temperature control in the back seating area (say WHAT?!) , and there's a 3rd row for extra seating. Oh my gosh… just so many amenities.
The Girls Love It
The Girls loved being able to ride in the car with me. They even were trying to convince me to buy the car! They loved the leg room and memory adjustable seats in the front. And the spacious back seats with the extra row that you choose to use or not.  I especially liked that everything was "at my fingertips" operational for the drivers' side. There's a little dial/joystick right where the stick shift is; it allows you to operate your radio, phone,navigation… everything. I wish all cars had this available.
 If you want to see what the Mazda CX9 looks like:
How cute (or sexy) does this vehicle look,guys… huh?! Okay. Back to the road trip. The ride was nice. My 2 friends were still trying to warm up to each other after being on the outs for almost a year (looong story). We arrive at Kings Dominion at midnight, and it hits me… I forgot to verify that I'll be checking in so late! I start panicking because the Camp Wilderness KOA lobby is closed. After 30 minutes of trying to figure out what to do, we are put in contact with the camp security. And guess what? They actually have the check in information as well cabin keys for visitors arriving after hours. SUPERB! Now we are checked in and have keys to castle!!
A Little Fun…. And A Little Snag
We got to the cabin and did the whole "this one is my room" thing. Of course, I took the master bedroom. Hey, I ain't sharing no dang room… I'M THE HOSTESS!! The cabin, by the way, is amazing. It sleeps up to 10 adults comfortably because it has two futons in the living room, a master bedroom, and two lofts upstairs. It has not one, but TWO bathrooms, complete with toilet, shower and bathtubs. And get this… it has wifi and cable TV throughout the cabin. There's TV's in every room, too, so people can watch what they want, when they want. Camping? More like GLAMPING!!
Oh… the snag you ask? Well, all of my girls finally met up at the cabin, and I introduced them all to each other. It was all good, save for one person… Kaprina. She just seemed to be …off. For example, Kim & I are Bloggers. We blog and work with companies from all over…and we get paid for this; It's OUR JOB. So… tell me why KP meets Kim and then, less than 2 minutes later, is telling Kim that she "can promote my poetry reading coming up"? Mind you she's not asking Kim, she's telling Kim to do this… and she's not mentioning anything about promotion fees.
So Kim says " How much are gonna pay me? Because I don't do this for free". KP looks legit surprised. She's like, "oh I have to pay you?". UHHH… YES, BIH!! Okay… no Kim did not say that,lol. But we both did try to explain to KP that what she is asking is consider business to us.  Things went back and forth a couple more minutes, but dissapated after that. I decided that before we head to Kings Dominion, it would be a good idea to stop by a grocery store and buy food so we could grill up dinner later after the park time. We headed to Walmart.
Walmart Mini Meltodown
We arrive at the store. I say, "I'm gonna get hamburgers and hot dogs for dinner tonight" as I am buying the food myself and I don't think we actually need a 5 star dinner at the camp. Everyone agrees… so I thought. Bonita and Kim are looking around the store, with Bonita doing more to help me gather up buns, condiments, and water. DO YOU KNOW that this girl KP comes up to me and says, "how about we make some nachos, too"? I respond with, "we're camping.. you grill when you camp".
We go back and with this, with things ending with me saying, "how are we even gonna make nachos, Kaprina? We HAVE AN OUTSIDE GRILL". And then she says, "you can buy a skillet and a pan". And then she starts pouting when she realizes I;m not buying that mess. GTFOH!! I swear…I cannot with this girl.
Oh… did I mention that after that, she tried to complain the items I was buying to feed all of us. ANNNND… she actually started shopping for things for herself like tea, pancake on a stick, and other stuff… on my dime? And then when I asked what she was doing she said, "well, what's the budget?". Oh. My. Effing. God. I'm like, girl bye. There was more clashing, but I'm not writing it… this stuff gives me anxiety …like whoa. Heading back to the cabin.
At The Cabin… Again!
We come back to the cabin, and see that April is now on her way to meet up with us so we can go to the park now. YAY!! I swipe the Walmart Chronicles under the rug… over and done. Let's go have some fun! We head to the park. I don't drive to the park because the KAO has a free shuttle that will take you there. Once we arrive inside the park and I get out tickets from Guest Services, I let it be know that I do not do rides. I just don't.
Note: When I was around 6 years old, I had a nightmare that I was on a roller coaster, and the roller coaster ran of the track and I died saying "Uh-Oh, Spaghettios". You laugh now…but that ish terrified me,lol. So, I really try to avoid rides. Even though they look like a ton of fun and about 85% of me wants to do it, it's that 15% that says, "girl you gon' DIE!".
The girls head over to get on rides, but not before we find a nice place to sit and eat. We of course went to the Taste Of Virginia event area because that is main attraction of the weekend. Oh, man… they had so much good food to choose from this year! Check out some of my Foodie photos below:
All of those plates shown above were just small servings of food… tastings if you will. But you can bet your booty that they were just enough to satisfy your belly cravings. The food is, in order of appearance:
Hog Wings
Bacon Wrapped Scallops
Grilled Watermelon Topped With Feta
Chicken Empanada
Pork Belly With Beans
Bread Pudding
Berry Crostada
Fish On Top Of Pumpernickel Topped With Apples
Sweet Potato Tart
Crab Mac N Cheese
Crazy Convo
While we were eating, Kaprina decided to mingle with the bands who were set to perform on stage. She told me that she was going to see if they would let her read her poetry on stage. I choose to mainly ignore her. After speaking with the band member, she came to our table and stated that the people were "rude". Here's our convo:
ME: "Rude why"? 
KP: "they told me that they already had a schedule of things". 
ME: "yeah… they get paid to perform here". 
KP: "yeah but they don't have to pay me"
ME: "What I mean is they are getting paid to be here and perform".
KP: "But I'm saying they don't need to pay me to perform".
ME: "This is Kings Dominion stage and they choose who they want to be on stage".
KP: "You just not hearing what I'm saying,Trish. I'm saying that they don't need to pay me. So it shouldn't be a problem".
ME: "Oh … this food is so good".
At the end of the conversation, KP left the park and went back to the cabin while me and the rest of the ladies were having fun. Great for her. Then, I get a text from someone. Apparently, KP made a call and said that all of us women were picking on her and she wanted to go back home. TWO HOURS AWAY! I left my group and went back to the cabin to "console" KP.
My day had actually been ruined because of this. I'm just happy that Kim, April, and Bonita were able to enjoy their time. The ladies returned to the cabin later that night, and we all had a great time. We grilled, we drank, we told girl stories… it was a lot of fun. Then…we went to bed. I mean, we still had another full day ahead of us on Sunday.
Sunday Morning At Kings Dominion
Sunday morning, I awaken to a huge light turned on. The light shone over everyone, no matter where in the cabin you were, save for the bathrooms. I was like, "who the hell has the lights on at 5 in the morning!". I turned the light off and went back to my room. A little later, KP waltzes into my room. I ask her if she knew who left the light on, and she says it wasn't her. Okay… I move on to a new conversation.
Then, she says, "Why you always focused on the negative?". I say that I'm not focused on negative, but I think that it's rude to leave bright lights on sleeping people. She starts going back and forth with me about how she likes to sleep with the lights on… blah, blah. So, I snapped and said, "You asked me a question, and I was answering it. If you don't want to listen to the answer, then why ask". Then, I I asked her to get out of my room. I had just had it with her.
Heading outside to blow off some steam, and then I see that my friend Kim is leaving. I was surprised because we still had a day of girls' trip left. She told me that she had to leave because she "just couldn't deal with Kaprina anymore". Turns out that Kp asked Kim to drive her home to Baltimore. Mind you, Kim lives 20 minutes away from Kings Dominion, and the drive to Baltimore is 2 HOURS! I lost it. I apologized to Kim, and wished her a nice day and a sfae drive back home.  Then my friend Kelley showed up…YAY!!!
Karaoke Kelley
I absolutely adore Kelley! She is spunky and full of happy vibes everytime I see her. This is why I invited her to the girls trip! Kelley arrived and was ready to go ride some rides. I introduced her to the remaining ladies (Bonita and Kp). She (Kelley) was in the cabin to settle in and take her prescription meds. KP decided to ask for one of Kelley's pills. Like WHO DOES THAT?!  Kaprina did so many effed up and embarrassing things during this trip. What I had planned to be a nice bonding experience had been hijacked and turned in to uncomfortable drama because of one person.It could have been so much better had I just not invited one person… and that makes me sad. I ended up having to cut ties with her because she just she kept devolving and turned out to not be the person I thought she was.
All in all, I had an okay time. I got to hang with my friends and was able to see them have a good time, save for a few snags.  Kings Dominion is still a great place to visit, whether you're with your friends or your family. There's a bevy of fun events happening at the park throughout the year, so you could plan your trip accordingly is you use the event calendar. I leave you with a video clip of our trip. I hope to have another Girls Trip later this year and I'm hoping it will be stress and drama free. Tune in next time!
To see some of the highlights of our Girl's Trip

Please follow and like us: