PMD (Personal Microderm) – Salon Quality Right At Home !
UPDATE !!!!

Soooo very EXCITED to share this PMD personal microderm review with you ! I have been mentioning this awesome at home facial care kit over the past months,and it has done absolute MIRACLES for my face. It's called PMD (Personal Microderm ),and I love it because, well… it works ! In December of 2015, I received news that I had been an opportunity to apply to be a PMD Beauty Blogger for one of their "at home" kits. I had a rush of thoughts and emotions as I was reading the emailed news.I was excited,stoked,anxious …everything that YOU would feel had you been selected. Then, I patiently waited for the delivery. 1 week later, there was knock (doorbell ring) at my door. My PMD kit was here !!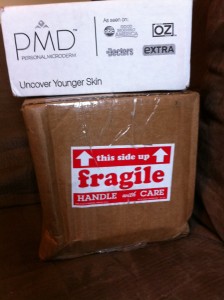 I picked up my box that waiting on my doorstep,and headed to my room so that I could examine my new face care routine product. I must admit,I was little apprehensive at first. Especially after reading the instructions and learning more about what micro-dermasion is.
Micro-dermasion is – … " a light cosmetic procedure that uses a mechanical medium for exfoliation to gently remove the outermost layer of dead skin cells from the epidermis. Most commonly, micro-dermabrasion uses two parts: an exfoliating material like crystals or diamond flakes and a machine based suction to gently lift up the skin during exfoliation. It is a non-invasive procedure and may be performed in-office by a trained skin care professional. It may also be performed at home using a variety of products which are designed to mechanically exfoliate the skin. Many salon machines and home-use machines use adjustable suction to improve the efficiency of the abrasion tool."(Wikipedia).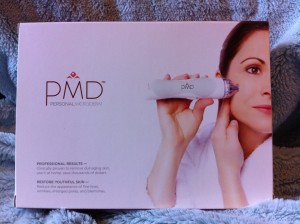 Now that you know the full definition, can you understand WHY I was tad bit jittery about the whole thing,lol? Well, after reading and reading the instructions and watching the accompanying DVD,I assured myself that I was,indeed,ready to do this. I completely unpacked the kit and looked to see what was included.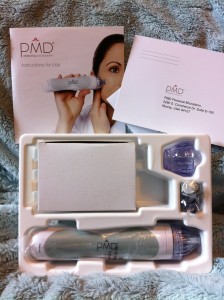 So basically ,there is the main part,which I will call the wand/handle. This part contains the motor that will help provide the suction and buffing that is necessary in the microderm process.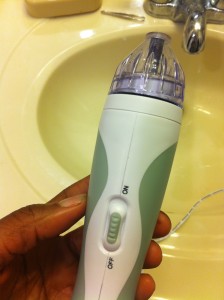 Then ,there are the buffing discs that you attach to the wand.These discs are what will be touching your face and helping to smooth and polish your skin over the period of use. You get three types of discs with your kit and they are all color coded and sized differently to represent different strength levels.The colors are white,blue and green.The white disc is a training disc and is used to determine skin tolerance and to practice using the Personal Microdermasion PMD.The blue disc is for sensitive skin,and the green disc is for medium strength.  There is also a red disc available,but I did not receive that one in my kit;I think you have to order that one separately. I believe that the Red disc is for maximum strength and that may be a little to intense for most consumers.  I chose to use the Blue disc for my skin after I finished practicing with the white disc. The 3rd part of the device is the screw cap top. It basically is a catchall for all the dead skin and debris that will be getting buffed off your face    …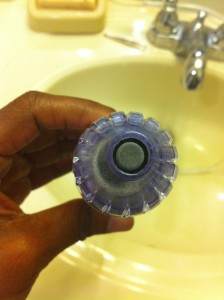 PMD Company Product Description
OUR STORY :Inventing the PMD Personal Microderm – 2000 years in the making
Microdermabrasion is not a fad. In fact, it can be traced all around the globe, as early as 1500 BC when Egyptians invented a process of using sandpaper to smooth the skin. In 1985 the first microdermabrasion machine is invented in Italy by Doctors Mattioli and Brutto. Later in 1990 microdermabrasion machines were introduced in America. With the overwhelming acceptance in Hollywood, the buzz of microdermabrasion exploded.
PMD is literally building Brilliant Confidence throughout the world. We are dreamers and believe anything is possible. With the help of 1000's of men and women across the globe, we launched PMD without funding and without big budget marketing. Our success is because of people like you who love and share our product. PMD has been able to give back and make a difference with families across the world. We are committed to building confidence in your skin, your inner self and YOUR families.
Today, PMD is truly a premier beauty company offering beauty tools and skin care products that will truly inspire and build Brilliant Confidence from the convenience of your own home. We have been working hard to develop new beauty products utilizing new technology and continuing to maximize our patented spinning disc technology and calibrated vacuum suction. We are excited to see your passion for the innovative products we will be launching in the future. Keep up-to-date with us by joining our community on Instagram, Facebook, Youtube, Twitter and Pinterest.
Here is my beauty journey in Personal Microdermasion and using the PMD !
Day 1
As instructed, I washed and dried my face thoroughly before preparing to use PMD. Then , I stood in front of the mirror …and cringed. What if I did it wrong? What if over did it? Oh boy..here goes nothing. I plugged the device into the wall,put in my blue sensitive skin disc, and switched on the power. There was a sense of calm to the humming that came from the device..almost telling me that things would be just fine. Looking at my face,I decided to start on my right side…that my best side,lol. From the jaw line (with the skin pulled taut),I went in an upward motion in one pass. That wasn't too hard. In fact..it was pretty easy ! I continued on with the rest of my right side,then I took a break.I wanted to see if there was a difference already. Kinda.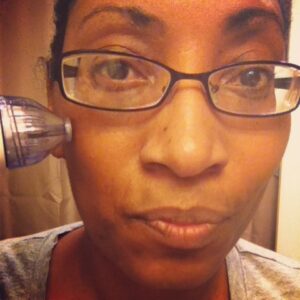 My face was buffed,so it looked a little lackluster compared to the non buffed left side,which made sense.And I had no tingling sensation telling me that I had done something wrong whilst microderming.So, I continued on and finished my left side. After finishing buffing, I rinsed my face and put some light moisturizer on .Then,and only then,I look to the wand to take the screw cap off to wash it. Ewwwww… that buffing really WAS WORKING! I had some nasty dead skin in there! But now,thankfully,that nasty skin was off my face..and thanks to PMD,it wasn't coming back.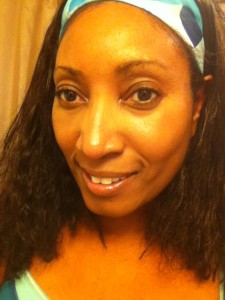 Day 7- I have used PMD 2 times in this 7 day period. I am liking what I see! The day after my first microderm,I did experience some redness in one area,but  I believe that was because I did more than 2 passes(go overs ) in that area,and the instructions say to do more than 2 passes in one area in a session. My bad!  Apart from that,my skin is looking brighter and feeling softer.
LOVING my PMD ! I do 1 session a week for myself. My skin is looking so much better. Soft,smooth,and dare I say … supple! I have had a bit of a problem with hyper-pigmentation under my right eye that popped up over the years (don't know why),and that little patch seems to be disappearing with every PMD session I schedule for myself. What I love most my PMD at home system is that it is AT HOME;I can treat myself to a session whenever I want ,and I don't have to worry about costs for the session,driving,scheduling conflicts or anything.Convenient in every way for me! Oh..did I mention how amazing my skin is looking and feeling ?!
I am so ,so glad that I was able to review the PMD (Personal Microderm System). It has been a true pleasure for me. I now only do one session a week,because my skin is really nice and it doesn't require the extra session,in my opinion.My skin is always soft and smooth,and I have no blemishes that are noticeable anymore. I have to say that I am extremely impressed by PMD and the results that it has given me. Seeing truly is believing and you definitely will see results with PMD. I don't think that I will ever go without using my personal microderm .
So,there you go. My LONG,but very true,review of the PMD (Personal Microderm) at home system. I hope that you enjoyed reading it as much as I enjoyed writing and sharing my story. I also have a video coming to Vimeo and YouTube if you are interested in watching an actual demonstration. Until then,check out some of the other PMD Beauty Bloggers who have experienced PMD . Thank you for reading !!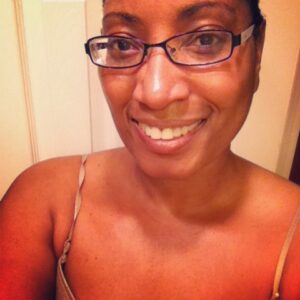 Videos from other PMD Beauty Bloggers… look at how amazing their skin looks !
Please follow and like us: