Local Spotlight On Business: Date With Paint Night. #SupportTheArts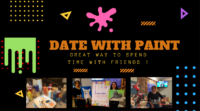 As a blogger, I think it's one of my most important duties to help support and promote local small business. Not only do they need our help to bring more awareness to them, but we need them in our neighborhoods to bring forth new ideas/culture as well as to keep some of our old traditional ones. Last weekend, I had an opportunity to visit a wonderful Canton area restaurant (The Chasseur) and attend a Date With Paint Pet Portrait painting event. You guys… I had pretty amazing time there !
What IS Date With Paint ?
Now, I know that over the past couple of years, there has been an influx of  "Sip N Paint" events popping up all over the country. I think that they are super fun and are great ways for friends to gather, have fun, and tap into their artistic side. With that being said, Date With Paint (DWP)is a little different than what those are. Ania Milo, the owner and artist behind the DWP events, has made her paint nights more personal. How, you ask? Well, instead of a group of people choosing from one or two choices, you get to paint something meaningful to you. You get a chance to paint your pet. How cool is that?!
When you register for one of Date With Paint's pet portraits painting events, you email a photo of your own fur baby for sketching. The sketch she does is the blueprint for your painting. Take a look at the sketch that Ania did for my Roxy here: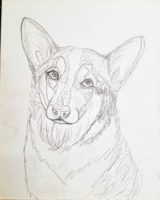 At the event, you paint to hearts desire at the event. Using your pet's photo as your guide, you create the most beautiful likeness of your pet. But you're not limited to painting in living color; you can do psychedelic or rainbow or any color version you'd like. During the entire event, Ania and her team of professional artists are there to assist you with your painting. You receive as much or as little help as you
want.  That's what makes DWP events so much more fun… your painting is one of a kind to you!
Here is a progression of my Roxy!
I really enjoyed my first paint night with Ania and the rest of class. I brought my close friend Nina with me, and she painted her beloved cat Robyn:
The class lasted about 3 hours, but I honestly lost track of time because I was focusing on painting my Roxy. I was so into bringing the sketch to life,I forgot to eat the delicious flatbread we had ordered… and I barely drank any of my drink. YES… the event is that engrossing! I highly recommend putting aside a night to spend with friends to do something a little different… Date With Paint!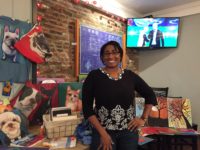 About Date With Paint
Date With Paint (DWP) is a subsidiary of Ania Milo Fine Art & Pet Portraits, and is a Baltimore based, Artist owned and operated Painting Events Company that offers a wide variety of artistic services for individuals and groups that are customized to meet the individual needs of our clients.
  DWP specializes in Social Painting Events and Corporate Team-Building Painting Events. Our Social Painting Events include Private Parties, Group Events, Individual Art Lessons and Charitable and Fundraising activities.
In general, our painting events are hosted at local establishments, client's location or other venues of client's choosing. Participants paint a variety of artful paintings while socializing and enjoying a relaxing atmosphere. Each event is lead by our highly talented and engaging team of artists who guide and encourage each participant to create one-of-a-kind masterpiece, which they will be proud to show off to your friends.
  You can find out more information about Ania Milo Fine Art and Date With Paint by visiting the following links:
DateWithPaint.com (website)
DateWithPaint Facebook page
Ania Milo Fine Art (website)