RoadTrip Tales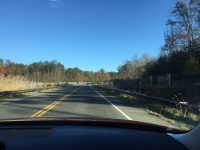 Have I mentioned that I really enjoy traveling? If I haven't, let me repeat it, then. I … Love… Traveling. I went back to having a "Big Girl" job August 2017, so my travel sessions have been a little limited. But, I still try to get out on the road. Even if it is a short 30 minute drive to Baltimore city… I'm going to go out somewhere.
One of my latest road trips was a visit to the NASA Goddard Space Flight Center. It's located in Greenbelt,MD, and it's about a 40 minute drive from my home. I wanted to bring my kids with me, but they had their own plans going on that day, sigh. I guess that's what happens when your babies start growing up… they don't wanna really hang out with mom anymore, lol. So… it was just their Dad and myself going to see the sights. Oh yeah… we traveled in style,too. I was driving the new Mazda CX5… a new vehicle that was provided to me by the amazing people over at DriveShop USA.
Do you even SEE how beautiful the outside and interior of this vehicle is?! Just let me say, if it looks good to your eye in photos, you should definitely go see it in person! This car is like… whoa. Totally loaded and ready for whatever road trip you might have for it. I loved riding and driving it so much that I decided to make moves to own one in 2018. True story. The leather is so supple and the seats are super comfy. I had my friend Pito take a look-see at it and he fell in love with it; He's a techno geek and loves bells & whistles. Fun little amenities like a heated steering wheel, ,bluetooth connectivity to your iPhone so that Siri can help operate your musical tastes. And, safety features like an automatic "BRAKE" that will stop your vehicle if your are in danger of collision. I'll talk a little bit more about the car later (because I'm really excited to), but I want to share my trip with you. So… here we go!
  On The Road Again
I was so super stoked to visit the NASA Goddard Space Flight Center. The Goddard had been a name that has been in my head ever since my son was a young lad and we watched "Jimmy Neutron" cartoons. Remember that show? Jimmy had a dog that he named Goddard.  Anyway, I was finally able to get out and go visit the center… located right here in Greenbelt, Maryland! Short drive (only 25 miles away from where I live), but it's still a road trip to me. especially when traveling in the amazing vehicle I had. Any reason to go out for a drive in those heated, lush, comfortable seats is a great one.
About The Goddard
Note: This description was taken from the Nasa Goddard Space Flight Center.
NASA's Goddard Space Flight Center in Greenbelt, Maryland, is home to the nation's largest organization of scientists, engineers and technologists who build spacecraft, instruments and new technology to study Earth, the sun, our solar system and the universe.
Just outside Washington, Goddard is home to Hubble operations and the upcoming James Webb Space Telescope. Goddard manages communications between mission control and orbiting astronauts aboard the International Space Station. Goddard scientists stare into the sun, grind up meteorites for signs of life's building blocks, look into the farthest reaches of space, and untangle the mysteries of our own changing world. Goddard engineers construct sensitive instruments, build telescopes that peer into the cosmos, and operate the test chambers that ensure those satellites' survival.
Named for American rocketry pioneer Dr. Robert H. Goddard, the center was established May 1, 1959, as NASA's first space flight complex. Goddard and its several installations are critical in carrying out NASA's missions of space exploration and scientific discovery.
Photos!
I really enjoyed being able to visit the center/museum. It was free to visit and explore,too!I wasn't actually able to go into the working Goddard area, because well… that's where the people are working and possible secrets are. And you can't really expect to just mozey on into a secured area and not have people try to contain you,right? RIGHT?! That being said, here are some photos that I took while I was in the museum. I'll a few captions to them so you can know what they are.
Informative, Fun Visit
All in all, the visit was short. We arrived a little too late in the afternoon, and saw ourselves a little strapped for time. We had about 1 hour to look and study the items in the museum. Nonetheless, I did enjoy myself, and learned a lot more than I expected I would. I plan on heading back to the center in 2018 to take more time to see everything that is there. I think they even have a short film that visitors can gather together to watch.
Please follow and like us: